Info:
Title:
Midtown sleeps -
Code:
W8H5X9
Contest:
NY / 2012
By:
R. W. Park - R. Gatti - K. Brash - P. Jackson
Views:
2049
Likes:
0
Votes:
JOSHUA PRINCE-RAMUS
3
EVA FRANCH I GILABERT
2
ROLAND SNOOKS
0
SHOHEI SHIGEMATSU
4
ALESSANDRO ORSINI
4
MITCHELL JOACHIM
1
2.3
Midtown sleeps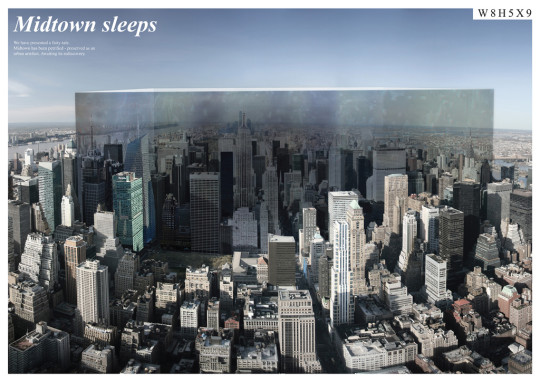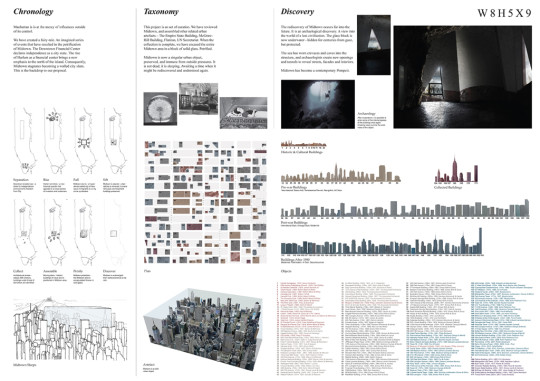 Midtown Sleeps Manhattanism is the architectural doctrine of density, height and aConey Islandsense of commercial invention. It has beenNew York's major contribution to world culture. For years,New Yorkdesigners and theorists have struggled withManhattan. The Commissioner's grid has been its formal master and theManhattanblock has acquired mythical status. There have been attempts to break the grid – Robert Moses, Le Corbusier, Clarence Stein and others with superhighways, superblocks and garden cities – but it now has too many champions, and its heritage is too ingrained inAmerica's collective psyche. Through the grid, the city ebbs and flows – but gets denser all the time. So if attempts to pacify or restrainManhattanare destined to fail, then why try? The city will change, but it cannot be cajoled. DesigningManhattanis anti-Manhattan. Instead, our approach to this project has been to present a fairy-tale. We have hypothesised a future scenario that has downgraded the urban value of Midtown Manhattan. The city has changed through economic necessity and social upheaval – not through design. The Financial District has broken free, an independent city state, andHarlemhas risen to become a major economic centre. Meanwhile Midtown has developed a crisis of congestion, becoming a dense urban slum, a walled city.
We see the cultural value of Midtown Manhattan as an city artefact. It is a unique assemblage of architectural bravado, a defining urban moment. But Midtown is at the whim of powers beyond its control, the same powers that created it. It is, perhaps, destined to be destroyed by Manhattanism. To highlight this irony, we have proposed an intervention.
We have acted as curators. We have cleared Midtown, and assembled other related urban artefacts that are under similar economic pressures – The Empire State Building,McGraw-HillBuilding, Flatiron, UN Secretariat. When the collection is complete, we have encased the entire Midtown area in a block of solid glass. Petrified.
Midtown is now a singular urban object, preserved, and immune from outside pressures. It is not dead, but is sleeping. Awaiting a time when it might be rediscovered again.
Info:
Title:
Midtown sleeps
Time:
13 giugno 2012
Category:
NY
Views:
2049
Likes:
0
Tags:
-