Info:
Title:
Rome -
Code:
00064
Contest:
Rome / 2010
By:
A. Conca / F. Bazzoni / F. Forcella / M. Frigerio
Views:
1694
Likes:
0
Votes:
JUERGEN MAYER H.
0
FRANCESCO LIPARI
6
FELIPE ESCUDERO
2
FRANCESCO GATTI
8
MICHAEL CATON
2
3.6
Rome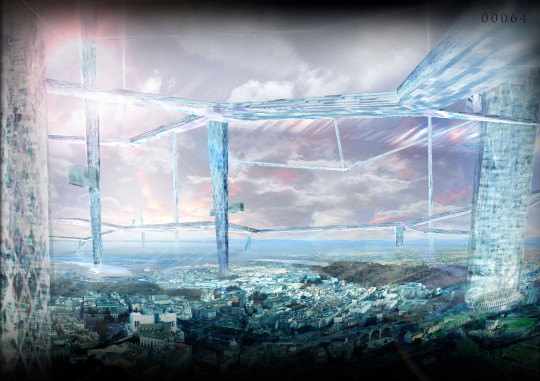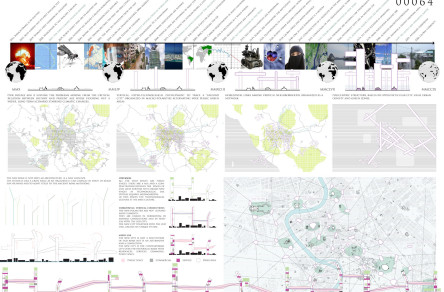 What is contemporary Rome turning into? What does life quality in Rome depends on? In a continuously evolving city, where millenniums of history meet wild growth, what is actually determining the quality of life? How can the project of a prospected Rome be connected to geological evolution?
Our project starts from these questions.
Our double aim is solving the problems arising from the critical relation between history and present age while figuring out a wider, long-term scenario starring climatic changes.
Our project entails a process that should begin right now, with the implementation of the first structures setting up the parallel, future development of the city. The first step answers to the contrasts that are intrinsic in the condition of Rome: the combination of new and ancient city is often arranged in ambiguous or uninspired ways that don't take care of the exigencies of actual and potential residents. Up to now the swift evolution of technology and lifestyle hasn't been reflected by an equivalent metamorphosis of the city-concept. The unique effort made concentrated on a material adaptation of the historical city to the human race, damaging on the one side the original, metropolitan net, while producing on the other side a mere palliative cure for the nineteen-century man, still looking for his balance in the contemporary urban life. Our project aims therefore at identifying two separate entities: SLOW City (ancient Rome) and FAST City (future, upper Rome), to obtain two coherent systems put in communication through predefined elements, pointed out by means of a careful analysis of the historiography of the whole area.
These strategic points almost coincide with the main monuments, crucial for cultural activities and reminding our historical heritage.
From a morphological point of view, a slow process will surely change habitat and population lifestyle in general. Climatic changes, depicted as sort of foreseen catastrophe by the international scientific community, could imply global warming and consequent rise of the sea level. Italy in particular, could be touched by the flood of the Tyrrhenian Sea over Rome and the whole region. According to our project the life-support system of the capital city is consequently based on a coherent phasing.
This is the reason why the volumes of our project will act as a shelter of the historic legacy of the ancient Rome, enabling the new metropolis to freely develop at an upper level, in a sort of netting stage. As a first step, we deem vital to think of a vertical, hyper-technological development to offer additional room to urban pioneers and to form a thick urban structure around them.
It would be thus possible to trace a ground-level city organized in macro-polarities (main focuses) alternating public green lungs to be transformed into parks as well as urban vegetable gardens and urban-agricoltural zones. The further phase, which is sistematically interconnected to the first one, foresees the construction of horizontal links among vertical neighborhoods organized as a network. This is the first stage towards future Rome.
Innovation, that is to say invention+exploitation, implies managing changements which, in an upcoming future, are more and more connected to the variable "climate". In this light the morphology of the city could gather further population coming from those surrounding areas suffering from the prospected climatic changes. Long-term planning and technological innovation are the most appropriate tools to face planet evolution and grant a suistainable and balanced growth, thanks to policentric structure, based on upper/reticular city tissue, high urban density and green lungs.
Our project doesn't exemplify a predetermined, standard urban planning. Dynamic interpretation of history and analysis of contemporary complexity are projected into the future and make us aware of the importance of our projectual evaluations for a conscious evolution process.
No retrospective or emergency solutions.
We think of Rome as an organism able to grow and develop by taking advantage of its own existing sources. Metropolitan life and energy inspire our choices and vision, becoming possible alternatives through urban planning and architecture.
Info:
Title:
Rome
Time:
16 marzo 2010
Category:
Rome
Views:
1694
Likes:
0
Tags:
-