Info:
Title:
RINASCIMENTO -
Code:
00176
Contest:
Rome / 2010
By:
B. PavEL
Views:
2180
Likes:
0
Votes:
JUERGEN MAYER H.
0
FRANCESCO LIPARI
2
FELIPE ESCUDERO
5
FRANCESCO GATTI
7
MICHAEL CATON
4
3.6
RINASCIMENTO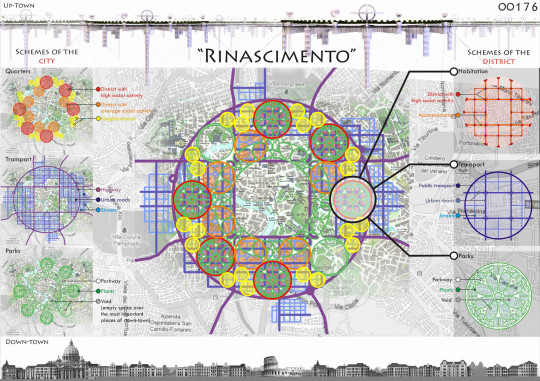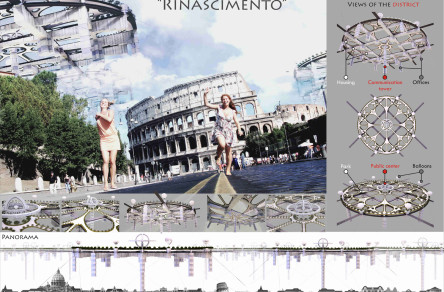 Modern urban situation in the city ofRomeis the result of life of hundreds of generations who, one after another, brought something new into the planning and architecture of city. Because of the geological conditions of the terrain it was not possible to apply for town-planning the project of an ideal city, which was popular among the ancient Romans. As a result centric irregular composition of the road network of the city after 2500 years has created many difficulties for the transport structure and further development of metropolis.
The complications in contemporary urban development in Rome:
• Rigid and almost unchangeable planning structure of down-town, formed by ages.
• The abundance of monuments of world importance prevents the introduction of radical changes in town-planning.
• Impossibility of underground urbanism because of the tremendous archaeological value of relics in the ground.
• Increasing the level of motorization and the necessity for permanent expansion of roads.
• Lack of ground surface for the horizontal development of the city.
Basing on these factors, the authors propose a new draft of an ideal city, designed to solve problems of modernRome. Project "RINASCIMENTO" is a mega-city, located directly above the center ofRomeat an altitude of250 meters. The project is designed for permanent residence 5 million.
The project is based on a symbol of the Renaissance – an eight-pointed star inscribed in a circle. Beams form 4 main trunks of thenew city. Roads, going outside the circle, gradually descending to the ground, where they join to the major streets of modernRome. On the lines roads of district level are strung, from which branch off residential streets, creating a clear rectangular grid.
Constructive solution:
UpperTownrest on 3 main columns in the locations with the highest social and transport activity – at railway stations: Roma Termini, Roma Trastevere, Roma S. Pietro. The columns are cylindrical towers, which serve for communication between the upper and lower town. Intermediate supports – still in the form of skyscrapers – are located on other points of thenew city. Part of load is carried by balloons that hold the console sections. Stability of construction is provided by gys along the outer contour of each residential unit.
Info:
Title:
RINASCIMENTO
Time:
16 marzo 2010
Category:
Rome
Views:
2180
Likes:
0
Tags:
-