Info:
Title:
Urban bridge -
Code:
00692
Contest:
Rome / 2010
By:
B. Schuck / J. Proctor
Views:
1629
Likes:
0
Votes:
JUERGEN MAYER H.
0
FRANCESCO LIPARI
7
FELIPE ESCUDERO
5
FRANCESCO GATTI
8
MICHAEL CATON
0
4.0
Urban bridge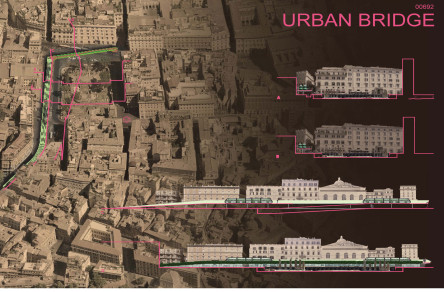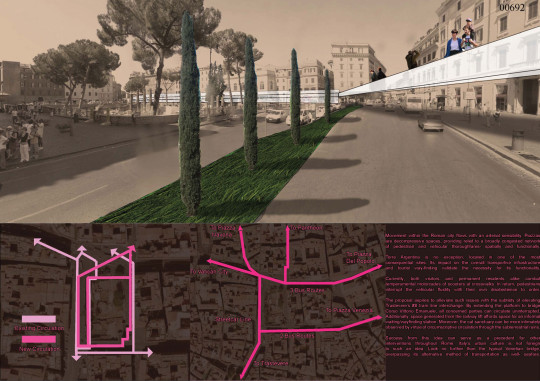 Movement within the Roman city flows with an arterial sensibility. Piazzas are decompressive spaces, providing relief to a broadly congested network of pedestrian and vehicular thoroughfares- spatially and functionally.
TorreArgentinais no exception, located in one of the most consequential sites. Its impact on the overall transportive infrastructure and tourist way-finding validate the necessity for its functionality.
Currently, both visitors and permanent residents alike combat temperamental motorcades of scooters at crosswalks. In return, pedestrians interrupt the vehicular fluidity with their own disobedience to order.
The proposal aspires to alleviate such issues with the subtlety of elevating Trastevere's #8 tram line interchange. By extending the platform to bridge Corso Vittorio Emanuele, all concerned parties can circulate uninterrupted. Additionally, space generated from the railway lift affords space for an informal waiting/wayfinding station. Moreover, the cat sanctuary can be more intimately observed by virtue of circumscriptive circulation through the subterrestrial ruins.
Success from this idea can serve as a precedent for other interventions throughoutRome. Italy's urban culture is not foreign to such an idea. Look no further than the typical Venetian bridge, overpassing its alternative method of transportation as well- seafare.
Info:
Title:
Urban bridge
Time:
16 marzo 2010
Category:
Rome
Views:
1629
Likes:
0
Tags:
-