Info:
Title:
PROP CITY -
Code:
B6T4E1
Contest:
Venice / 2011
By:
H. J. Lee / R. W. Hamilton / L. Tilder / B. Bruscoli
Views:
2719
Likes:
0
Votes:
BJARKE INGELS
10
NERI OXMAN
7
ELENA MANFERDINI
9
MARIA LUDOVICA TRAMONTIN
5
BOSTJAN VUGA
4
7.0
PROP CITY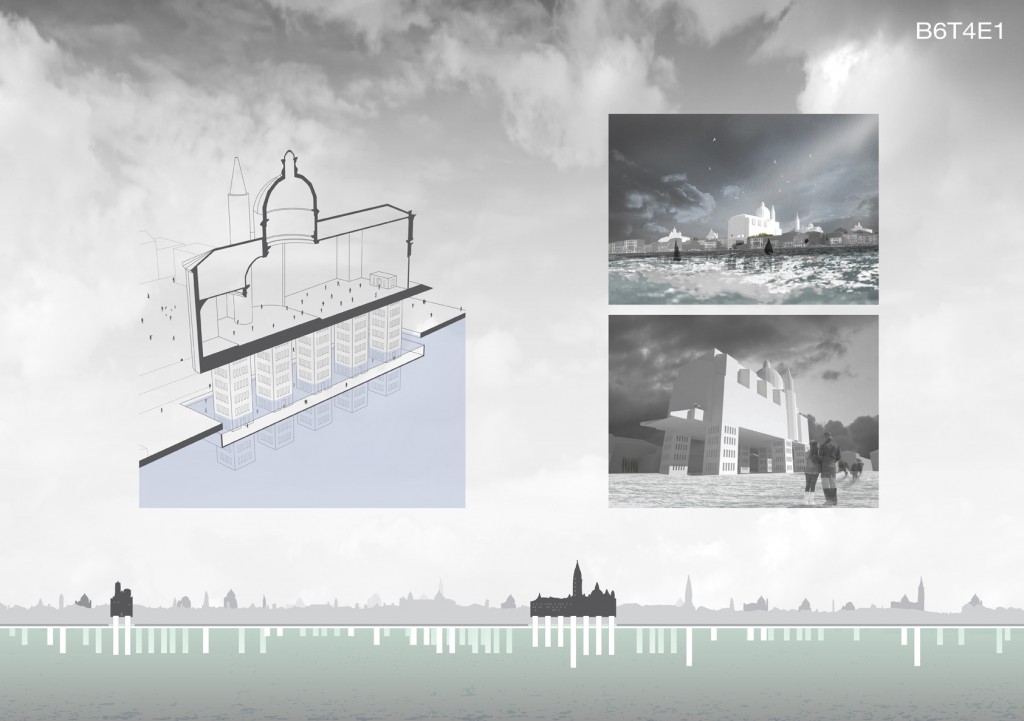 P R O P  C I T Y Cityvisioin,  Venice is being flooded by a wave of tourists filling the city from all across the world.  Because of an increase in tourist population, Venetians are being driven from their homes by these temporary residents.  Houses are being converted to hotels and the local population cannot afford (nor wishes) to stay.  Not only flooded by tourism, Venice is also drowning in the very waters it derives its identity from.  Flooding has become a regular occurrence within the city, filling the streets and piazzas with water, regularly inundating its historical fabric.  These monuments must be lifted above the water's reach.
PROP CITY seeks to lift these artifacts above the historical city and preserve Venice. A negative city of towers will be built to house tourists, populating the area beneath Venice.  The towers will prop the monuments above the water, acting as inhabitable pylons.  Tourists will access ­­the city's monuments from the towers below, within a city-wide circulation system.  Floating beneath the water, tourists explore Venice from below within this network of towers and monuments.  The opportunity to experience the foundations of Venice reveal its very identity:  Venice as a fictitious construction, a floating city propped upon the water.  This chance to explore a formerly inaccessible and mysterious environment will encourage tourists to occupy the space below the city rather than the space belonging to the Venetians
The tourist towers will return housing on the island to Venetians, who can reclaim their city.  Venice will be returned to the Venetians.
Info:
Title:
PROP CITY
Time:
7 giugno 2011
Category:
Venice
Views:
2719
Likes:
0
Tags:
Adriatic Sea , Flood , Republic of Venice , Scripps Institution of Oceanography , Tourism , Tower , Venice , Water