Info:
Title:
Universal Flood -
Code:
B7N5M3
Contest:
NY / 2012
By:
L. Bregni - G. D'Emilio - A. De Rosa - M. Falcone
Views:
3127
Likes:
0
Votes:
JOSHUA PRINCE-RAMUS
6
EVA FRANCH I GILABERT
4
ROLAND SNOOKS
2
SHOHEI SHIGEMATSU
4
ALESSANDRO ORSINI
4
MITCHELL JOACHIM
3
3.8
Universal Flood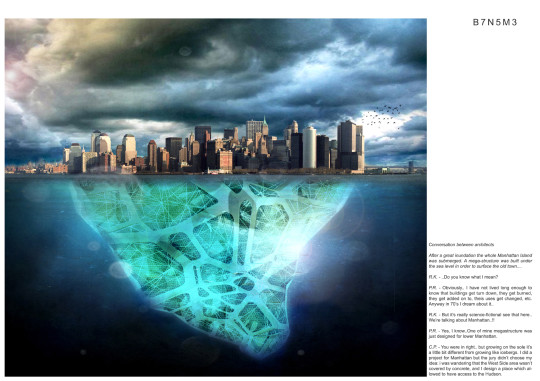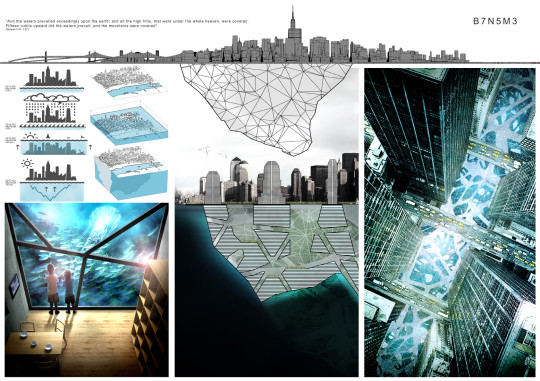 The glaciers retreat and the oceans level raising take to a compromise future in which New York City risks its own life and sink into oblivion due the progressive flooding. To face this crisis the projects strategy takes inspiration from icebergs growning:   a new city branches out in the ocean, under Manhattan Island, buoying up the old ones like the submerged part of the iceberg. The unscrupulous use of sole of the ancient town is finally stopped. The undersea mega-structure accomodates all the functions of  a contemporary city, helping  the New York on the earth's surface. The most important change in paradigm involves not the structure but the atmosphere: everything under the sea has a radical change; a change that influences lights, sounds, colours, sensations. The frenzy status proper of the technological era fades away,  remaining information  systems help people and simplify their existence. The apocalyptic scenario becomes a visionary aquatic landscape in total harmony with the new metropolis.
Info:
Title:
Universal Flood
Time:
13 giugno 2012
Category:
NY
Views:
3127
Likes:
0
Tags:
-