Info:
Title:
SPARK – LIGHTING UP ROME -
Code:
00057
Contest:
Rome / 2010
By:
Basma Abu-Naim / Christina Gohli / Felix Siegrist
Views:
1961
Likes:
0
Votes:
JUERGEN MAYER H.
0
FRANCESCO LIPARI
6
FELIPE ESCUDERO
1
FRANCESCO GATTI
7
MICHAEL CATON
8
4.4
SPARK – LIGHTING UP ROME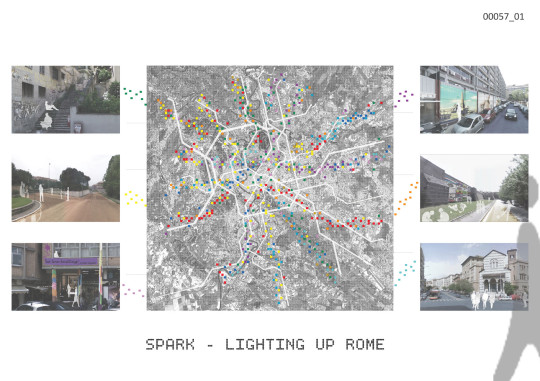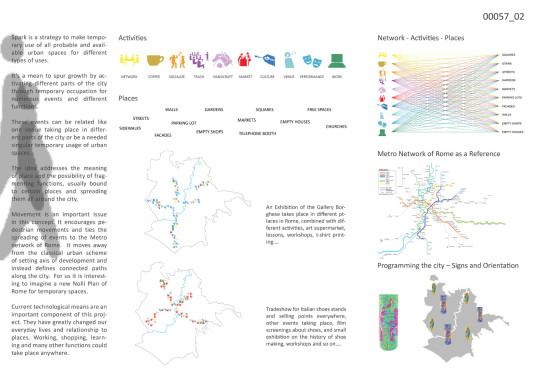 SPARK – Lighting up Rome
This project employs strategy as an instrument of Urban Planning. Our idea responds to a livable City situation, which is subject to constant change. In reference to 'Open City' planning approaches we prefer to formulate variable possibilities instead of drafting plans and presetting specific development parameters.
Spark is a strategy to make temporary use of all probable and available urban spaces for different types of uses.  It's a mean to spur growth by activating different parts of the city through temporary occupation for numerous events and different functions.  These events can be related like one venue taking place in different parts of the city or be a needed singular temporary usage of urban spaces.
The Idea addresses the meaning of place and the possibility of fragmenting functions, usually bound to certain places and spreading them all around the city, it is also about the relationship betweenCityCenterand the suburbs.  Taking activities that are mostly concentrated in the center and spreading them around the city.
In a way it plays with the PRG of Rome which aims at defining several local centers by anticipating the creation of places as networks that are interchangeable. Neglected urban spaces might emerge as temporary centers and become places of interest.
This way the whole city could be configured and programmed.
Movement is an important issue in this concept. It encourages pedestrian movements and ties the spreading of events to the Metro network ofRome.  It moves away from the classical urban scheme of setting axis of development and instead defines connected paths along the city.  For us it is interesting to imagine a new Nolli Plan ofRomefor temporary spaces.
Current technological means are an important component of this project. They have greatly changed our everyday lives and relationship to places. Working, shopping, learning and many other functions could take place anywhere.
In that sense the Gallery Borghese can have an exhibition in several places along a path in the city, combined with activities such as workshops, art selling points, art lessons….and the next tradeshow for Italian shoes in Rome isn't confined to Fiera Roma but takes place in different spaces and again connects and combines with different activities like an exhibition on the history of shoes, workshops on shoemaking skills and so on….
Spark makes reference to the Great Fire in 64 AD that destroyedRomeand made ground for new development and growth. In this case a spark spreads through the city, it doesn't burn it down! It activates places and spurs growth….
Info:
Title:
SPARK – LIGHTING UP ROME
Time:
16 marzo 2010
Category:
Rome
Views:
1961
Likes:
0
Tags:
-