Info:
Title:
DEMOCRACITY "ROME" -
Code:
00060
Contest:
Rome / 2010
By:
C. Hayes / L. Ferguson
Views:
1924
Likes:
1
Votes:
JUERGEN MAYER H.
0
FRANCESCO LIPARI
6
FELIPE ESCUDERO
2
FRANCESCO GATTI
8
MICHAEL CATON
6
4.4
DEMOCRACITY "ROME"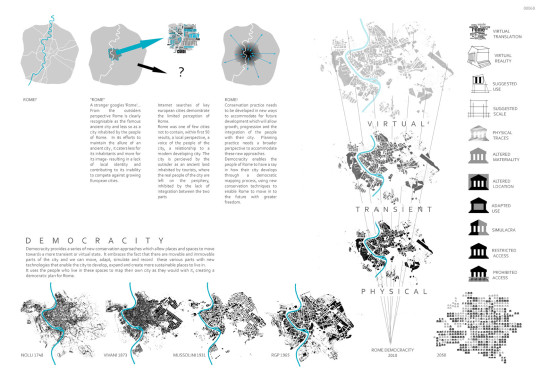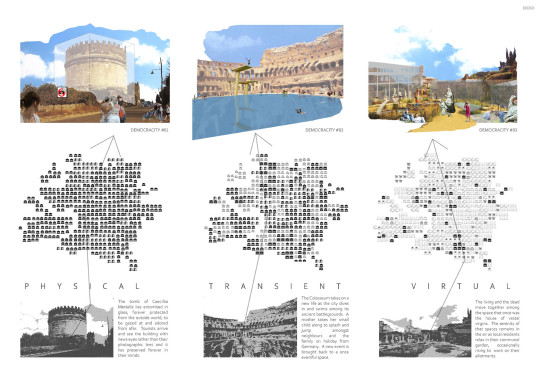 DEMOCRACITY
"ROME"
A stranger googles 'Rome'…  from the outsiders perspective Rome is clearly recognisable as the famous ancient city and less so as a city inhabited by the people of Rome.  In its efforts to maintain the allure of an ancient city , it caters less for its inhabitants and more for its image- resulting in a lack of local identity and contributing to its inability to compete against growing European cities.
Internet searches of key european cities demonstrate the limited perception of Rome.
Rome was one of few cities not to contain, within first 50 results, a local perspective, a voice of the people of the city, a relationship to a modern developing city. The city is percieved by the outisder as an ancient land inhabited by tourists, where the real people of the city are left on the periphery, inhibited by the lack of integration between the two parts.
ROME!
Conservation practice needs to be developed in new ways to accommodate for future development which will allow growth, progression and the integration of the people with their city.  Planning practice needs a broader perspective to accommodate these new approaches.
Democracity enables the people of Rome to have a say in how their city develops through a democratic mapping process, using new conservation techniques to enable Rome to move in to the future with greater freedom.
DEMOCRACITY
Where is the line between conservation, preservation and the inhibition of city growth?
At what point in the future will environmental situations/ technological advancements necessitate new conservation approaches?
Does conservation have to be tangible?
Democracity provides a series of new conservation approaches which allow places and spaces to move towards a more transient or virtual state.  It embraces the fact that there are movable and immovable parts of the city and we can move, adapt, simulate and record  these various parts with new technologies that enable the city to develop, expand and create more sustainable places to live in.  It uses the people who live in these spaces to map their own city as they would wish it, creating a democratic plan for Rome.
MAPPING PROCESS
The project provides 11 symbols which are representative of various conservation processes that could be applied to various areas of the city.  These move from a 'physical' to 'virtual' state, allowing areas of the city to shift or disappear whilst maintaining the historical memory of the city.
Physical
prohibited access, restricted access, simulacra, adapted use…
recognised as current successful techinques  in conservation standard practice
Transient
altered location, altered materiality, physical traces…
using a mix of memory and creative solutions to design and construction
Virtual
suggested scale, suggested use, virtual reality, virtual translation…
using new and developing technologies such as computer modelling and gaming , social media, geo and bio mapping to record and re-create spaces.
POTENTIAL OUTCOMES
The project explores three potential outcomes for the mapping of the city using inhabitants who have chosen to map the city as predominantly physical, transient or virtual, in accordance with the key for mapping provided.
Physical
The tomb of Caecillia Mettella lies entombed in glass, forever protected from the outside world, to be gazed at and adored from afar.  Tourists arrive and see the building with news eyes rather than their photographic lens and it lies preserved forever in their minds.
Transient
The Colosseum takes on a new life as the city dives in and swims among its ancient battlegrounds.  A mother takes her small child along to splash and jump amongst neighbours and the family on holiday from Germany.  A new event is brought back to a once eventful space.
Virtual
The living and the dead move together among the space that once was the house of vestal virgins.  The serenity of that spaces remains in the air as local residents relax in their communal garden, occasionally rising to  work on their allotments.
Info:
Title:
DEMOCRACITY "ROME"
Time:
16 marzo 2010
Category:
Rome
Views:
1924
Likes:
1
Tags:
-