Info:
Title:
I Heart New York -
Code:
C2J3L1
Contest:
NY / 2012
By:
A. Peters - J. Fisher - J. Koeppen
Views:
2425
Likes:
0
Votes:
JOSHUA PRINCE-RAMUS
3
EVA FRANCH I GILABERT
4
ROLAND SNOOKS
1
SHOHEI SHIGEMATSU
4
ALESSANDRO ORSINI
1
MITCHELL JOACHIM
1
2.3
I Heart New York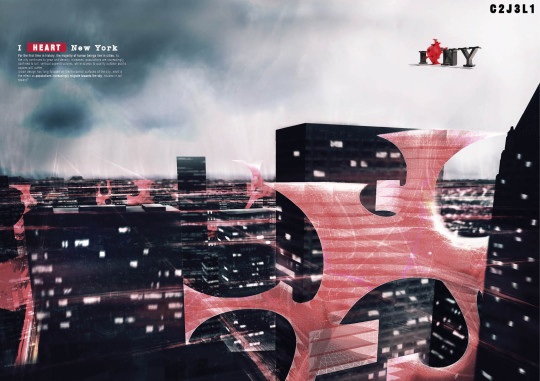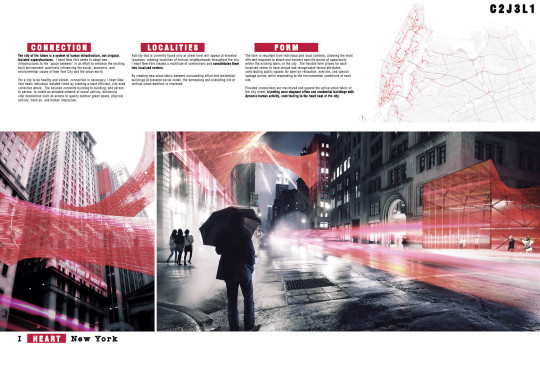 As human populations are increasingly confined to large vertical superstructures due to increasing density, social isolation inherently becomes a matter of both public health and quality of urban life; each tower is an isolated limb connected by a congested and inept public realm at ground level, which will become progressively more incapable of delivering necessary amenities such as access to quality outdoor public space, while failing to produce a true sense of community. One of the greatest challengesNew York Citymay face is the question of how to provide urban city dwellers with the necessary nutrients for a healthy urban life.The vascular system is a system that passes nutrients and vital necessities for sustaining life throughout the body utilizing an efficient network of connections. The heart is the driver of this system and of life; the entire vascular system services and links each individual, fragmented piece into an efficient and healthy collective whole. The urban environment ofNew York Cityoperates in the same way. Each neighborhood, building, and person in such a diverse city needs access to quality outdoor space and social connection for the sustainable health of the entire ecosystem of urban life. In an increasingly dense urban footprint, the existence of open land for public occupation is a rarity.
The solution is a three dimensional network of connections that permeate the entire urban fabric and all types of existing buildings and structures; serving as a vehicle for providing life-giving amenities to inhabitants. This city wide vascular system connects building to building, and person to person to create an elevated network of social activity, delivering vital necessities such as access to quality outdoor green space, physical activity, human interaction, and urban agriculture. By maximizing elevated connections, once stagnant office and residential buildings can become injected with new and dynamic human activity and life at the new points of public intersection now occupying the space "in between".  This new vascular system of public space becomes a portal of human capital and connection; the new pulse of a thriving New York City.
Info:
Title:
I Heart New York
Time:
13 giugno 2012
Category:
NY
Views:
2425
Likes:
0
Tags:
-