Info:
Title:
KM0_SHORT -
Code:
00657
Contest:
Rome / 2010
By:
E. Leoncini
Views:
1554
Likes:
0
Votes:
JUERGEN MAYER H.
0
FRANCESCO LIPARI
2
FELIPE ESCUDERO
3
FRANCESCO GATTI
6
MICHAEL CATON
4
3.0
KM0_SHORT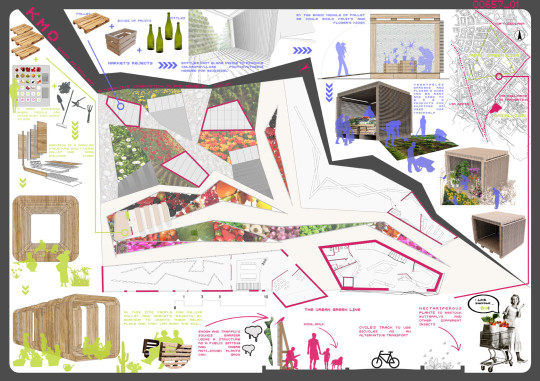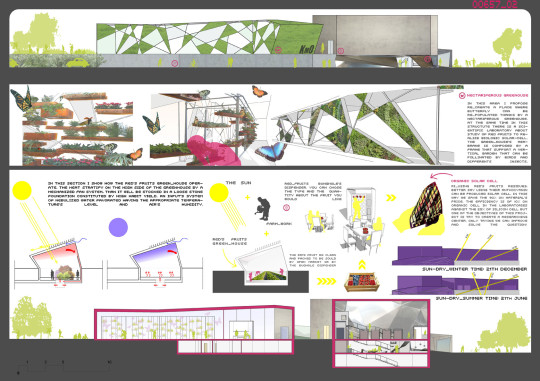 KM0_SHORT FILIERA AND ALTERNATIVE CONSUMPTION IN SOSTENIBLE CYCLES
CONCEPT
The project has got as objective the public space's active use; it outcrops from the urban cement's crack and it grows freeing itself from the built background to approach on spontaneous urban track-farms and orchards.
Two green-houses and a bunghole's commercial building for red fruits, grow up on public track-farms, emerge to redesign a new space, today characterized by indefinites limits. Rising those masses contemporary new levels planes model oneself bringing near the street level and the new one.
Project put attention on the concept of short filiera (Km0's production). The area I choose stay along Via dell'Arco di Travertino in a strategic street's crossing: Via Appia and Via Tuscolana, inside an high residential quarter at west side and adjacent of privates urban farms at east side.
It could be definite an ecologic urban project, social, cultural and technologic catalyst; in other words a new generation research and social centre. It represents a strategy of urban project that wants to promote acts "from the lower parts" and offer to the city a suggestion for someone degraded city's place.
Its strength is not only on single aspect, but more on the interlacements of actions that make part of the project and their synergic development; components combine and improve them, feed them and they find strength together, diffuse a critic conscience, they trigged them self in an area than continue the pollination in all forgotten city's  urban voids.
MIXED USE AND SUSTAINABILITY
The program of the project includes a green house for red fruits experiments about the production of ecologic energy using organic solar cell. Reusing red's fruits residues, better say using their anthocyanin can be created solar cell for solar panel technology. In this way we save the 90% on materials price; the efficiency is of 10% on organic cell in laboratories against the 25% of silicon cell but one of the objectives of this project is try to create a researching center. Red fruits are also distributed by bunghole's dispenser. There's a commercial building where people can relax and try fruits choosing type and quantity of fruits they would like at the first plant, down there's another plant whit a biologic bar on street's level.
On the open side there is a structure named Mobydick built by reused pallet of markets and used by people for organizing workshop and where they can find a seed's dispenser and farmer tools to create public green farms and flowerbed; the "seed saving", an action about the change and sharing of local and traditional variety of seed, briefly "pretext" for pollination this place and other in the capital city.
There's also a nectariferous green house; a site where I propose to recreate a place where butterfly can be repopulate thanks by nectariferous plants. In the same time in this structure a scientific laboratory about studies on red fruit's proprieties on solar cell. Its membrane is composed by a frame that support a vertical garden that can be pollinated by bird and different insects.
A great part of area is occupied by vegetable's and flower's farms worked up by quarter's inhabitants and by fruit's, vegetable's and flower's kiosk built reusing market's residues as pallet glass of water etc…
Whit the glass of water we can produce biodiesel putting them whit some algae that whit solar energy and by chlorophyllous photosynthesis produce this one.
Info:
Title:
KM0_SHORT
Time:
16 marzo 2010
Category:
Rome
Views:
1554
Likes:
0
Tags:
-