Info:
Title:
Nuova Ostia Antica -
Code:
00696
Contest:
Rome / 2010
By:
emerymcclure architecture
Views:
1988
Likes:
3
Votes:
JUERGEN MAYER H.
0
FRANCESCO LIPARI
2
FELIPE ESCUDERO
2
FRANCESCO GATTI
8
MICHAEL CATON
9
4.2
Nuova Ostia Antica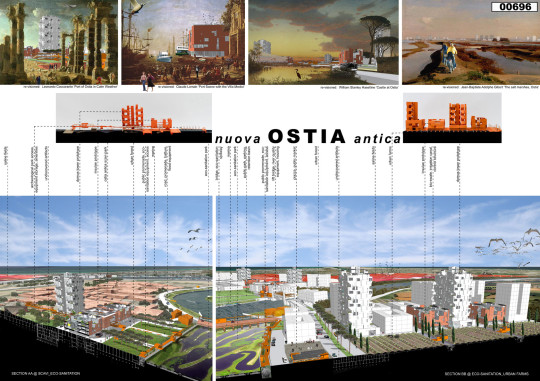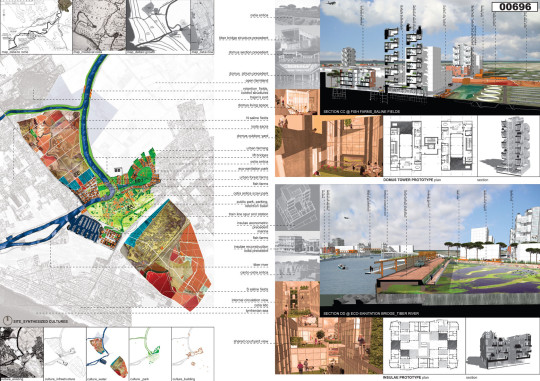 WRITTEN REPORT
nuova Ostia antica
SITE
The RomeCityVision proposal nuova OSTIA antica envisions a locally sustainable satellite city that simultaneously feeds back to the larger community of ROME. Historically, Ostia was the port city and first satellite city of the Roman Empire. Laid out and organized under the auspices of Roman urbanism, Ancient Ostia presented a dense, urban environment  'In part stationary, in part travelling on business, composed of people of various origins and nationalities, uniting different habits, customs, and dress, this population of mixed character gave ostia that lively aspect that is still characteristic today of large commercial cities.'1 Over the past 2000 years, in light of Roman history and the consistent deltaic growth of the Tiber, the ancient port city of Ostia now lies landlocked three kilometers from the sea, a magnificent ruin, but a ruin nonetheless. The archaeological scavi is located in Rome's Municipio XIII, which in recent years has seen population growth as Rome moves towards the sea. The growth is unplanned, uncontrolled, and very American in aesthetic. Strip malls, single-family developments, gas stations, and other identities relative to suburban sprawl are slowly surrounding the renaissance borgo of Ostia Antica and the scavi. Rich farmlands are being sold off in quarter-acre lots so single-family homes can be constructed. In some areas, single family homes sit along a dirt road as no organized city services have been developed. The area is a strange place, mixed with these new McMansions and 400 year old farm houses. It is serviced by mass transit yet still the roads are congested and traffic is often at a standstill. Unlike Ostia Lido, which lies on the sea edge of Municipio XIII, the rest of the region appears to have no organized structure and appears to be developing as Houston, Texas, USA did in the 1980's and 1990's.
PROPOSAL
It is here in Municipio XIII, that we envision nuova OSTIA antica. Using the scavi as the "central park", this re-visioned Roman satellite community spans from the Fiumicino Canal to the Ostia Lido to Ostia Antica. nuova OSTIA antica attempts to combine historical and cultural relevance with contemporary needs and concerns. The major goals that enable us to strategize solutions are:
Create more density in productive nature and human habitation.
Re-center and reengageOstiaand the River.
Find appropriate relative scales of productive nature to habitation.
The major components we work to develop and sustain are:
Water culture
Park culture
Building culture
Infrastructure
At the municipal scale, we investigate a complex layering of urban density, housing, infrastructure, and constructed nature. In the contemporary realm, nature in the urban environment can be more than merely a park or an incidental condition. Nature can be an active agent working to filter and store water, manage storm water run-off, create biodiversity, reduce heat island effect, clean air, reconnect urbanisms to their historical and present productive landscapes, and produce food. Increased technology and construction developments provide for unique opportunities to create hybridized urban environments that minimize the consumption of arable land while still providing exterior nature for the habitants. As cities such as Romegrow and the reduction of arable land threatens our food production and suppresses biodiversity, it is necessary to conceive of alternate and more communal ways of providing access and contact with nature. nuova OSTIA antica investigates models of synthesized urban occupations centered on active natural agents at multiples scales.
Water and Park Cultures
At the macro scale, the design proposal rehabilitates the ancient salt fields, reinvigorates theTiberRiver, and reemploys bothagraand aqua farming. The rehabilitation of the salt fields has multiple contributions. They return part of the municipalities back to their natural system; they create bio-diversity (birds, brine shrimp, etc); they potentially can generate energy; they create an economic product; they provide space for recreation; and finally, they create a runway clear zone forFiumicinoAirport. The reinvigoration of the Tiber occurs at many scales, but at the macro scale, the actions employed include the creation of an eco-sanitation park (framed by theDeadRiver) and a marina system. The eco-sanitation park services the new community by filtering their waste water via a wetland system that eventually replenishes the river via a spillway. The marina system includes a new "port" for leisure boats and two new lift bridges for marina access and safe harbor. Finally, nuova OSTIA antica utilizes both aqua andagra farming in its satellite community. Along the salt field edges that abut the building culture, lie fish farms (vallicoltura). Along the northwestern agrarian edge of the community, the fields are woven into the building culture creating smaller urban farming plots. The proposal also designates two Urban Forests where forest farming is speculated.  Food production is conceived of a necessary and integrated component of the urban program.
Infrastructure Culture
The aforementioned three macro scale actions address specifically the Water and Park cultures and they are integrally linked to the Building and Infrastructure cultures. The Infrastructure culture employed takes its precedence from Ancient Rome and frames, literally and figuratively, the overall proposal. From the new train spur connecting theLidoline to the Fiumicino line to the reconstructed rivers edge as water control, recreational circuit, and access thoroughfare, the infrastructural proposal serves as the integrated spine. Beginning with transportation systems (roads, tracks, waterways, bridges etc., the infrastructure culture moves beyond the normative, layering upon these systems multiple programs and environmental responsibility. For example, a spillway is a road, a road is run-off filter, the run-off filter is a jogging path. Infrastructure sustains and is sustained by occupancy of the community.
Building Culture
These integrated design strategies are employed throughout the proposal including at the micro scale of a singular building. As part of the investigation into the densification of habitation and productive natures, two housing typologies were created: the Domus and Insulae prototype. Both of these prototypes, preceded by their relevance to Roman urbanism andOstiaspecifically, studied density in the vertical plane. Simultaneously, the prototypes also investigated aspects of suburban lifestyles that seemed to offer something other than the urbanism ofRomeproper but they employed more sustainable design strategies then the single family home on a quarter acre lot. The Insulae prototype focused on a multi-unit house block composed of 2, 3, and 4 bedroom units. The Domus prototype focused on the vertical stacking of a single family house where each level accommodates one unit. Both prototypes increase the density on a quarter-acre block a minimum of twelvefold. They investigate the differences between urban housing and suburban housing seeking to create a new typology for the satellite city. For example, in the Insulae prototype, the units stack like an urban apartment block but are eroded to create space for outdoor yards, pass-through systems for ventilation, and visual and physical connections to the public realm. In the Domus prototype, the large single family home is rotated and stacked to achieve the privacy of the stand alone home but atop instead of next to each other. Both prototypes integrate with the natural systems entwining themselves into the municipality. From linked backyards that manage runoff and heat island effect, to roof tops that grow food, capture rainwater, and produce energy, to grey water and black water systems that support the eco-sanitation park, the urban forests, and the urban farming, these prototypes envision new tectonics where nature and buildings work as integrated infrastructure to become active agents for the greater good.
CULTURE
Fundamental to this design proposal are the multiple connections between old and new. To be a citizen of Rome, we envision it necessary to be consistently present in the city's past and future culture. Not only does the scavi act as the central park of the community but it also serves as the organizing loci. nuova OSTIA antica centers on the relevance of cultural sustainability where the scavi serves as a reminder, a place, a central component, a tourist site and a part of daily life. Habitation surrounds it, transportation accesses it,agra and aqua culture lie outside its ancient walls, and infrastructure supports and protects it.
In order to stimulate the contemporary city, we employ multiple strategies that actively engage historical operative models through contemporary technologies.  This critical analytical methodology leads to strategies that unify past present and future.  By synthesizing these multiple occupations, nuova OSTIA antica attempts to stimulate a new productive experience for the contemporary urban dweller.  Our RomeCityVision is one where as many systems as possible; cultural, historical, technological, natural, etc, work together to make a greater whole and a more vibrant future.
1. Calza, G. & G. Becatti.  Ostia. Roma, Istituto Poligrafico Dello Stato. 1961, 4th Edition. 128 pages, translated from the Italian by C.H. Pennock and R. Meiggs
Info:
Title:
Nuova Ostia Antica
Time:
16 marzo 2010
Category:
Rome
Views:
1988
Likes:
3
Tags:
-