Info:
Title:
The Bridge and the river -
Code:
00843
Contest:
Rome / 2010
By:
F. A. Bongiorno
Views:
2860
Likes:
1
Votes:
JUERGEN MAYER H.
0
FRANCESCO LIPARI
4
FELIPE ESCUDERO
2
FRANCESCO GATTI
7
MICHAEL CATON
4
3.4
The Bridge and the river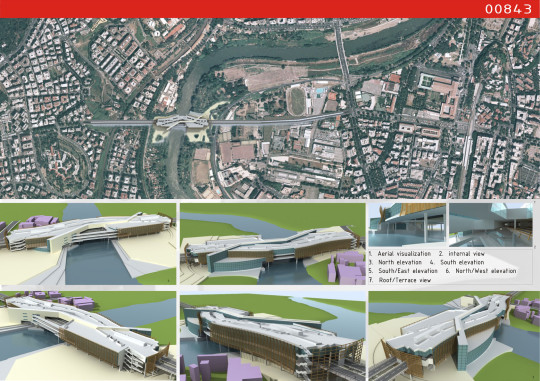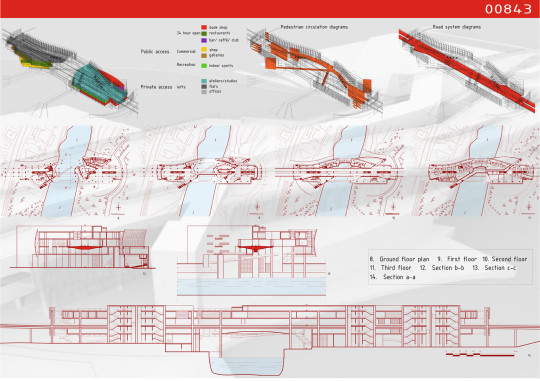 Habitable Bridge on the Tiber River in Valco SAN Paolo- Rome
The Bridge and the river.
The project contains a habitable bridge that extends between Piazzale Caravaggio- Colli Portuense which elevates on the side of Viale Marconi, Via T. Calzechi Oneti of17.4 m. ca. to arrive at42 m. from the Tiber River, to then extend40.90 m., linking to Viale Prospero Colonna (as foreseen by the old PRG- Piano Regolatore of 1965 and by the current one). The Bridge has the form of two 'stranded boats' that connect the two shores and provide coexisting spaces for leisure activities, cultural events, social events, residential and commercial developments, all activities that are alive and enrich the relationship with the river.
Bridges have been considered in the past as elements imposed on the environment, as they were necessary to move things and people. Today the project aims not only to use the most adequate technology or design but considers also the relation with the place and its environment. The bridge forms an integral part of the town planning for the whole area, offering an image of continuity and harmony in line with the loop of theTiber.
The habitable bridge redefines what is possible in sustainable design by incorporating the latest green technology and engineering advancements. The sculpted body directs wind to the openings at its mechanical floors and roads, where traveling cars activate them and compress winds that push turbines which generate energy for the building.
In additional the design of the bridge incorporates a series of other integrated sustainable and engineering elements, including solar panels, double skin curtain wall, chilled ceiling system, under floor ventilation air, and  daylight harveting, all of which contribute to the building's energy efficiency.
The design of the area has revealed significant incidences of contamination caused by the intense input from rainwater run-off, and addresses in a penetrating way the spatial relationship between workplace and leisure in accordance with the character of the place and with its rich tradition.
The bridge portrays itself as an indispensable connection, symbol both of a union and of distance from its surroundings; it is a mutation of scale that produces left-over's a significant hybridization, a new track of measurement that renders the work as an interpretation of continued assonance with the area that surrounds it.
Info:
Title:
The Bridge and the river
Time:
16 marzo 2010
Category:
Rome
Views:
2860
Likes:
1
Tags:
-