Info:
Title:
REVERSIBLE MEDIA-ARCHITECTURE @ STAZIONE TERMINI -
Code:
00433
Contest:
Rome / 2010
By:
F. Furiassi
Views:
3160
Likes:
0
Votes:
JUERGEN MAYER H.
0
FRANCESCO LIPARI
2
FELIPE ESCUDERO
1
FRANCESCO GATTI
5
MICHAEL CATON
5
2.6
REVERSIBLE MEDIA-ARCHITECTURE @ STAZIONE TERMINI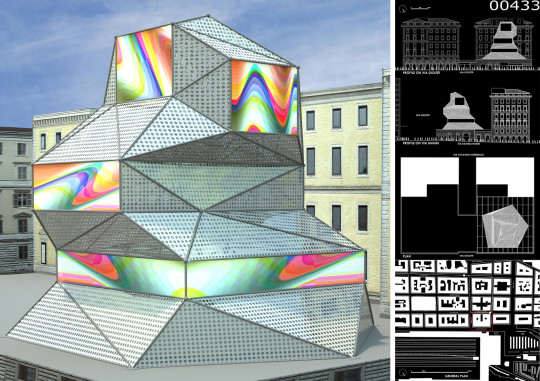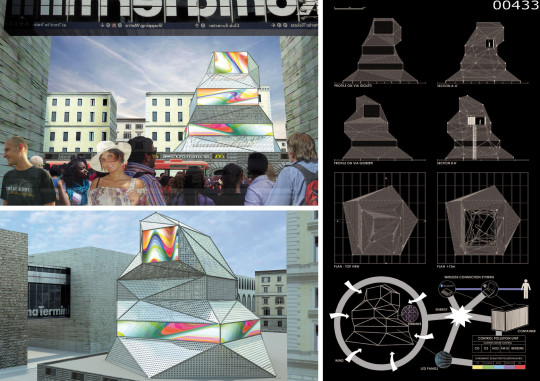 REVERSIBLE MEDIA-ARCHITECTURE @ STAZIONE TERMINI
The building so called "dente cariato" (bad tooth), in Rome-Esquilino district, is the remains of a demolition that dates back to the post-war period and that leaves in Via Giolitti a building existing by half only at the first floor (a broken-down basement occupied mostly by shops).
REVERSIBLE MEDIA-ARCHITECTURE, is an architectural idea suitable to be placed on the roof of the "dente cariato", and with its strong design, proposes itself as a visionary object having a dual function: to give a new character to the urban scenario of the Termini Station area, even if temporary, and to make people aware of the environmental sustainability topics.
Extremely lightweight, this construction, realized entirely using dry systems, appears as a reticular structure covered by a perforated skin. This skin is composed by a system of micro wind turbines and led panels, whose faces are oriented mostly on three fronts: Piazza Dei Cinquecento, one of the exits of Termini Station and Via Giolitti. In the inside of the structure, mounted in a steely ribbing mesh, a container in suspension hosts a pollution control unit which in real-time analyzes the atmospheric conditions, and, linked with the rest of the control units disposed along the roman territory, generates graphics (visualized on the screens) that indicate the status of pollution in the city of Rome. The dialogue with the context of this crossroad of thousands passing people (the area surrounding Termini Station), is reinforced by a wireless connection service that allows to download data on mobile phones and computers.
In adhesion with its environmentalist message, this architectural operation promotes the usage of low impact environmental technology for the buildings, represented by using mostly recyclable and eco-compatible materials, and by the development of an energy self-sufficient system realized thanks to the wind micro turbines that producing a quantity of energy bigger than that consumed for the functioning of this urban object.
Info:
Title:
REVERSIBLE MEDIA-ARCHITECTURE @ STAZIONE TERMINI
Time:
16 marzo 2010
Category:
Rome
Views:
3160
Likes:
0
Tags:
-