Info:
Title:
SKY STREET; New York City's Dream of the Past -
Code:
G9C3A5
Contest:
NY / 2012
By:
S. Jung Yoo
Views:
3954
Likes:
0
Votes:
JOSHUA PRINCE-RAMUS
3
EVA FRANCH I GILABERT
3
ROLAND SNOOKS
1
SHOHEI SHIGEMATSU
1
ALESSANDRO ORSINI
0
MITCHELL JOACHIM
2
1.7
SKY STREET; New York City's Dream of the Past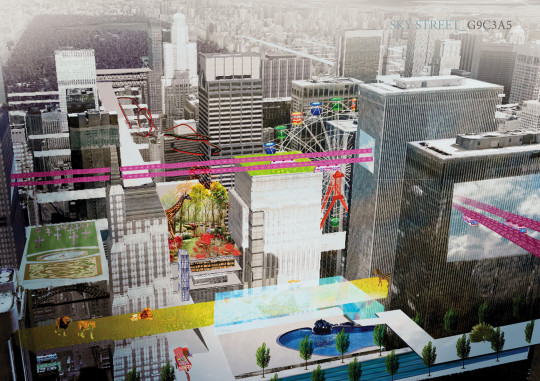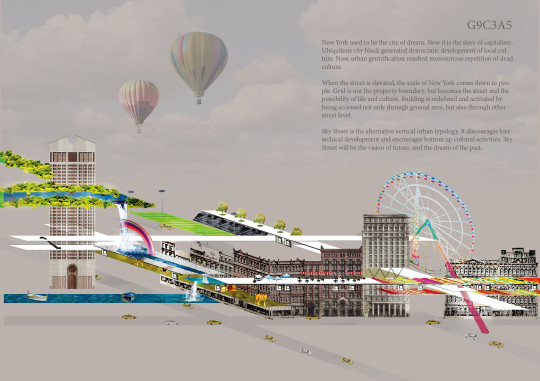 New York used to be the city of dream. Now it is the slave of capitalism. Ubiquitous city block generated democratic development of local culture. Now, urban gentrification resulted monotonous repetition of dead culture. When the street is elevated, the scale of New York comes down to people. Grid is not the property boundary, but becomes the street and the possibility of life and culture. Building is redefined and activated by being accessed not only through ground zero, but also through other street level. Sky Street is the alternative vertical urban typology. It discourages hierarchical development and encourages bottom up cultural activities. Sky Street will be the vision of future, and the dream of the past.
Info:
Title:
SKY STREET; New York City's Dream of the Past
Time:
13 giugno 2012
Category:
NY
Views:
3954
Likes:
0
Tags:
-