Info:
Title:
Reclycing City Center -
Code:
00337
Contest:
Rome / 2010
By:
J.M. RIVIERE / M. GUESSOUS El
Views:
2058
Likes:
1
Votes:
JUERGEN MAYER H.
0
FRANCESCO LIPARI
2
FELIPE ESCUDERO
5
FRANCESCO GATTI
5
MICHAEL CATON
10
4.4
Reclycing City Center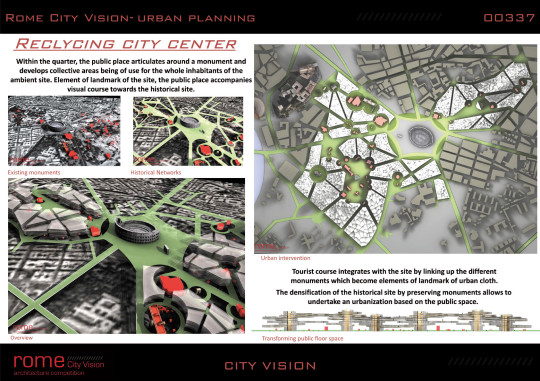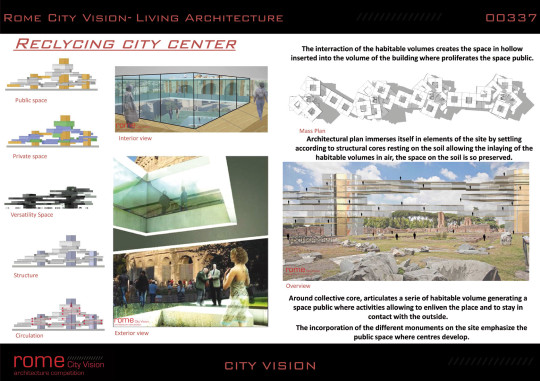 Reclycing city center
Sensational  City : Roma Romana
Rome is an historical city but it can be a contemporary city at the same time. In fact, we can preserve its historical aspect and integrate a future vision with a new and modern architecture.
This project is a model of what the modern city should be. The building is dominating the site but it does not step on it, so the inhabitants or visitors can have a wonderful view on the site, they can admire the historical site from a transparent building that enables them to realize the beauty of the site.
Revival … Italie, Roma City
The densification of the historical site by preserving monuments allows to undertake an urbanization based on the public space.
Tourist course integrates with the site by linking up the different monuments which become elements of landmark of urban cloth.
The incorporation of the different monuments on the site emphasize the public space where centres develop.
From tourist course attached to the urban mass, accommodation is born, activities and group of functions united all around Colisée, element catalyst of the fluxes of urban cloth.
Abyme setting the scene is set in value through the infiltration of public space within the public space to promote a mix of uses.
Urban planning
Within the quarter, the public place articulates around a monument and develops collective areas being of use for the whole inhabitants of the ambient site. Element of landmark of the site, the public place accompanies visual course towards the historical site.
The tourist is so anchored in a homogeneous urban cloth where articulates an inter-quarter  circulation so as to diversify the usage of these places.
Living Architecture
The interraction of the habitable volumes creates the space in hollow inserted into the volume of the building where proliferates the space public.
Architectural plan immerses itself in elements of the site by settling according to structural cores resting on the soil allowing the inlaying of the habitable volumes in air. The space on the soil is so preserved.
Around collective core, articulates an enchainement of habitable volume generating a space public where activities allowing to enliven the place and to stay in contact with the outside.
Info:
Title:
Reclycing City Center
Time:
16 marzo 2010
Category:
Rome
Views:
2058
Likes:
1
Tags:
-