Info:
Title:
FARM Cultural Camp -
Code:
J8V329
Contest:
PFFF / 2012
By:
R. Lucchesi, E. Paradiso
Views:
2056
Likes:
0
Votes:
ITALO ROTA
0
BENJAMIN BALL
1
MARCO CANEVACCI
7
VANESSA TODARO
3
ANDREA BARTOLI
6
3.6
FARM Cultural Camp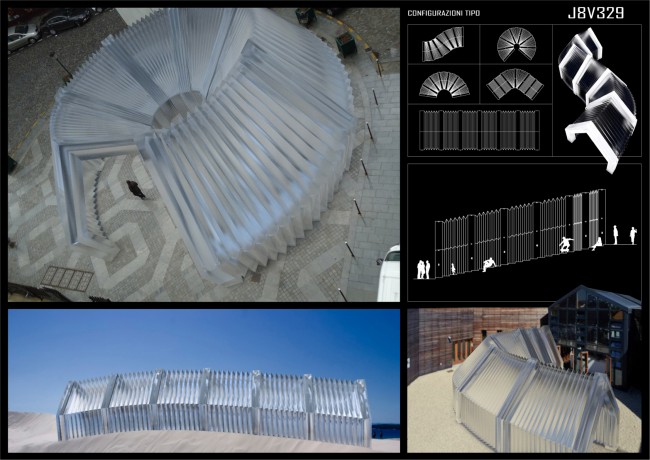 Object:
Inflatable space for conventions and presentations,
FARM Cultural Camp foyer, for about 30 people.
Project  Philosophy:
What did inspire us toward the design of the pavillon were its
versatility and plasticity, as a surplus value to a simple idea.
The idea originated from the very nature of a nomadic space,
like this one: elastic and versatile.
The inflatable can be placed over any surface, it adapts itself to the
sizes and morphological characteristics of the ground, each time, it can adjust
its spacial configurations in accord to the requirements of the moment.
Technical features:
Arches and bellows are what allows us to morph the shape of our inflatable space,
The arches are located at an adjustable distance through fastening belts.
The bellows, having a smaller volume than the arches, have a minor pressure, allowing  that specific plasticity we need to modify the angle of the arches.
The material for the structure is Nylon 420/420 coated double thread,
fireproof class 1 (180 gr/m2), double needle stitched.
The structure is anchored through ballasts positioned at the base of the arches.
In the case of windy areas, suction cups are used, together with ballast band,
over blocks (cm 40×40 – 70kg).
The arches are provided with inner led lanterns multi-lights, white or in colour.
The tunnel structure can be used open on both side, or only one.
The inflation system is equipped with an invisible pump and pressure sensor.
Since the material has an elevated resistance to: traction, lenghtening, brecking, tearing, light, scrape and fire, it can be inflated an infinite number of times.
MATERIAL CHARACTERICS:
Traction Resistance = UNI 4818 PT. 6°
Lenghtening and Breaking = UNI 4818 PT. 6°
Tearing Resistance = UNI 4818 PT. 9°
Light Resistance = UNI EN ISO 105
Abrasion Resistance = UNI EN ISO 12947-2/2000
Fire Resistance = UNI 9177
Info:
Title:
FARM Cultural Camp
Time:
25 gennaio 2012
Category:
PFFF
Views:
2056
Likes:
0
Tags:
-