Info:
Title:
Another vision of Rome -
Code:
00030
Contest:
Rome / 2010
By:
Jose Francisco Fernández Díaz
Views:
1782
Likes:
0
Votes:
JUERGEN MAYER H.
0
FRANCESCO LIPARI
2
FELIPE ESCUDERO
2
FRANCESCO GATTI
9
MICHAEL CATON
8
4.2
Another vision of Rome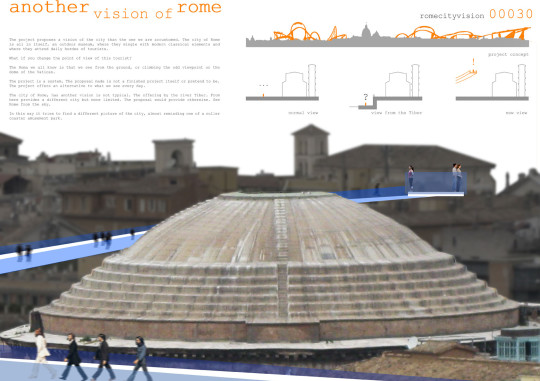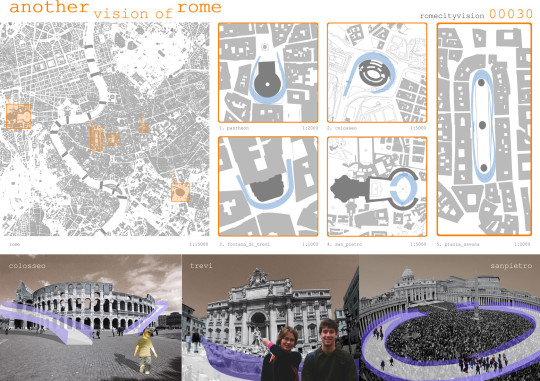 The project proposes a vision of the city than the one we are accustomed. The city ofRomeis all in itself, an outdoor museum, where they mingle with modern classical elements and where they attend daily hordes of tourists.
What if you change the point of view of this tourist?
The Roma we all know is that we see from the ground, or climbing the odd viewpoint or the dome of theVatican.
The project is a system. The proposal made is not a finished project itself or pretend to be. The project offers an alternative to what we see every day.
The idea of the proposal is to raise a series of walkways, whether of glass, steel, plastic, or the most suitable material, which rise about a monument, town or across the street, to offer to citizens, and of course, tourists, a vision ofRome which are not used.The city ofRome, has another vision is not typical. The offering by the riverTiber. From here provides a different city but more limited. The proposal would provide otherwise. SeeRome from the sky.
Thus it might be possible: throw coins into the Trevi Fountain from 20 meters in height, to witness a mass in the Piazza di San Pietro in a different way, or to see the spectacular eye of the Pantheon in a manner contrary to that everyone remembers.
A proposal could be that these structures are maintained in place by the weight of the boot area, which lasted through the surrounding streets. This would avoid scaffolding structures.In this way it tries to find a different picture of the city, almost reminding one of a roller coaster amusement park.
Info:
Title:
Another vision of Rome
Time:
16 marzo 2010
Category:
Rome
Views:
1782
Likes:
0
Tags:
-