Info:
Title:
Captive Galaxy -
Code:
J9P5M8
Contest:
NY / 2012
By:
Y. Nishizaki - M. Jia - T. Kiname
Views:
2743
Likes:
0
Votes:
JOSHUA PRINCE-RAMUS
4
EVA FRANCH I GILABERT
2
ROLAND SNOOKS
2
SHOHEI SHIGEMATSU
3
ALESSANDRO ORSINI
0
MITCHELL JOACHIM
1
2.0
Captive Galaxy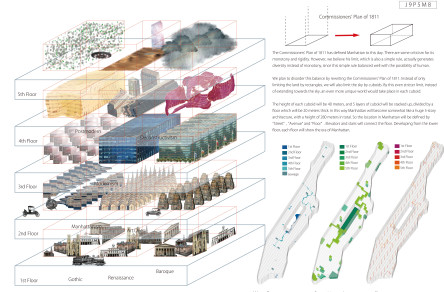 The Commissioners' Plan of 1811 has defined Manhattan to this day. There are some criticism for its monotony and rigidity. However, we believe his limit, which is also a simple rule, actually generates diversity instead of monotony, since this simple rule balanced well with the possibility of human. We plan to disorder this balance by rewriting the Commissioners' Plan of 1811. Instead of only limiting the land by rectangles, we will also limit the sky by cuboids. By this even stricter limit, instead of extending towards the sky, an even more unique world would take place in each cuboid.
The height of each cuboid will be 40 meters, and 5 layers of cuboid will be stacked up, divided by a floor which will be 20 meters thick. In this way Manhattan will become somewhat like a huge 5-story architecture, with a height of 280 meters in total. So the location in Manhattan will be defined by "Street", "Avenue" and "Floor". Elevators and stairs will connect the floor. Developing from the lower floor, each floor will show the era of Manhattan. Gothic, Renaissance, Baroque, Manhattanism, Art Deco, Modernism, Postmodernism and Deconstruction will take place, but in a different style.
Info:
Title:
Captive Galaxy
Time:
13 giugno 2012
Category:
NY
Views:
2743
Likes:
0
Tags:
-