Info:
Title:
Pfff PAVILION -
Code:
K9X6Y1
Contest:
PFFF / 2012
By:
M. Coppola, P. Cresci, R. Nicolin
Views:
3782
Likes:
1
Votes:
ITALO ROTA
0
BENJAMIN BALL
1
MARCO CANEVACCI
5
VANESSA TODARO
3
ANDREA BARTOLI
1
3.6
Pfff PAVILION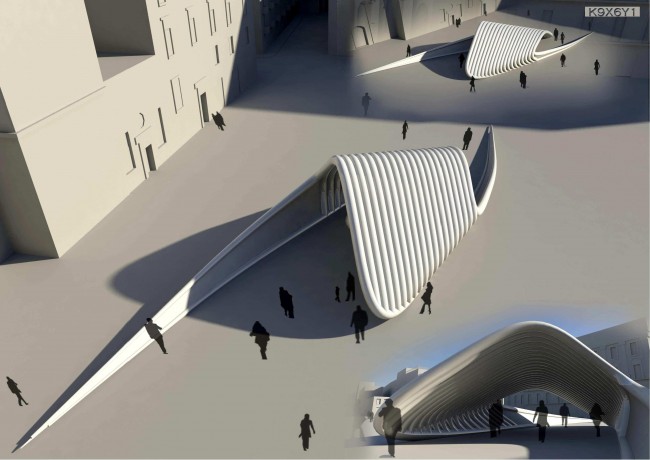 The main idea behind this concept is to shape a continuous space that flows seamlessly from the outside to the inside. This allows a continuous direct interaction with the pedestrian fluxes inside the pavilion space. Visitors can enjoy the exhibitions simply by walking on their own pace, maximizing the interaction between people, pavilion and site space. So, the "shell" shape emerges both from the need of a fluid and interactive space in continuity with the site and from the need to eliminate barriers for the air flux and create an enhanced natural ventilation system, thanks to the open space of the pavilion.
Structurally, this architectural concept is achieved with a series of air inflated tubes made of PVC membrane. The tubes are shaped as irregular and asymmetrical arches and are manufactured with rolls of PVC jointed by a series of hot welded seams. The tubes can be connected to one another via a serried of structural belts in order to maintain the shell shape and assure their stability. The use of PVC membrane allows the tubes to be inflated and deflated multiple times, without decreasing the fabric structural properties. The tubes are anchored to the ground via either concrete blocks or heavy sandbags and could resist uplift wind forces.
The shape and structure of the pavilion call for an adaptable sustainable strategy. The open configuration of the building enhances natural ventilation and it is designed to maximize it during mild and hot seasons. In addition, the pavilion could be adapted to more harsh situations when heating or cooling is desired or necessary. This is achieved by temporarily closing the pavilion with a membrane screen and providing a mechanical ventilation system.
Info:
Title:
Pfff PAVILION
Time:
25 gennaio 2012
Category:
PFFF
Views:
3782
Likes:
1
Tags:
-