Info:
Title:
Purpose -
Code:
00038
Contest:
Rome / 2010
By:
L. Gambino / A. Lavezzi
Views:
1819
Likes:
0
Votes:
JUERGEN MAYER H.
0
FRANCESCO LIPARI
4
FELIPE ESCUDERO
1
FRANCESCO GATTI
9
MICHAEL CATON
4
3.6
Purpose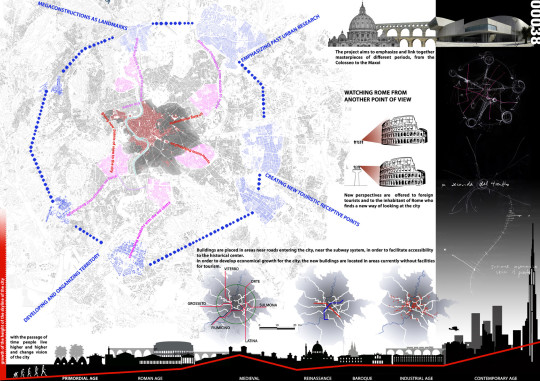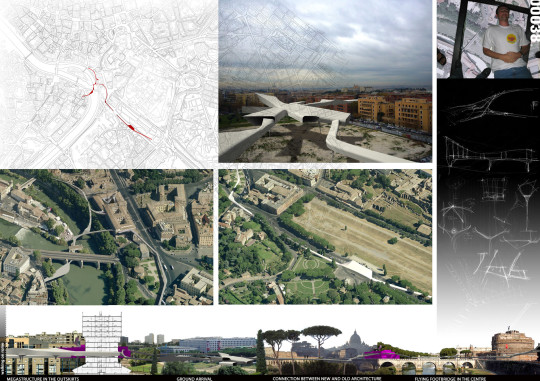 Purpose
Rome is not only archeology.
The city has been transformed over the centuries and the current image is the results of efforts of every age.
The project aims to emphasize masterpieces of different periods, from the Colosseo to the Corviale, linking them together, virtually with views or concretely with a system of flying footbridges.
The project gives a unique interpretation to the entire city, considering not only the historical center as a characterizing element, but giving more importance to outer peripheral areas.
The important urban studies conducted over the centuries gave results of different relevance, but however wothy to be underlined and emphasized.
Forms of project
The project takes different forms and satisfies different needs depending on where it is,  aiming to create a bridge between old and new architecture..
Outside the old town, in the forgotten outskirts of the city, it shows megastructures hosting services for tourism. The project becomes a landmark, something recognizable and visible from far.
Buildings are placed in areas near roads entering the city, near the subway system, in order to facilitate accessibility to the historical center.
In order to develop economical growth for the city, the new buildings are located in areas currently without facilities for tourism.
A public transport system connects the megastructures giving unity and enjoyment to the entire speech.
Approaching the city center, project changes scale and functions.
Simple and light pathways at different heights from the ground connect with each other monumental buildings. The meeting points of the walkways are in forgotten historical buildings, in this way they are revalued.
New perspectives are offered to foreign tourists and to the inhabitant of Rome who finds a new way of looking at the city. Known architectures will offer new viewpoints to the observer who is already going to discover their beauty.
Info:
Title:
Purpose
Time:
16 marzo 2010
Category:
Rome
Views:
1819
Likes:
0
Tags:
-