Info:
Title:
WHAT WHY ANALYSE -
Code:
00743
Contest:
Rome / 2010
By:
L.Lie / A. Sollazzo / J. Polak / Z. Papartis / L. Giménez
Views:
1585
Likes:
0
Votes:
JUERGEN MAYER H.
0
FRANCESCO LIPARI
2
FELIPE ESCUDERO
3
FRANCESCO GATTI
7
MICHAEL CATON
4
3.2
WHAT WHY ANALYSE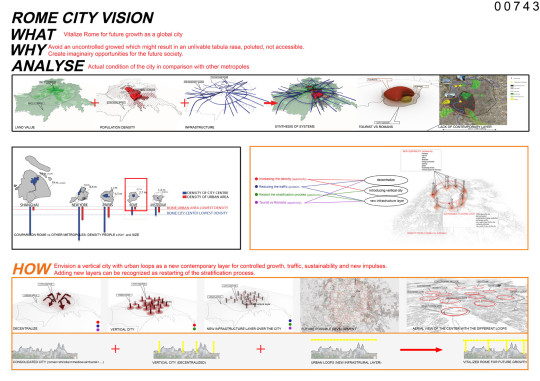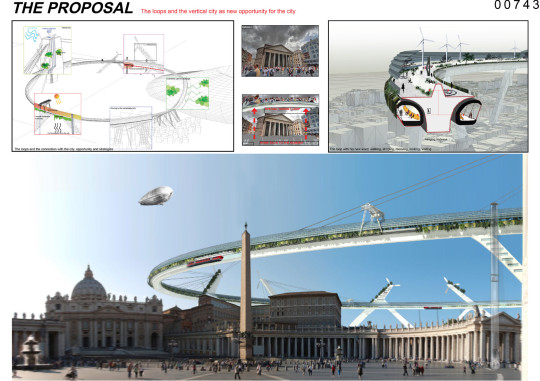 Romefor the 22th century.
How can a metropolis likeRomeexpand in the future? And how can maintain an important role in the contemporary society? How canRomekeep up with issues like sustainability, traffic jams, tourism attraction, contemporary life. What can be the bridge between old and future? What can awakeRome, stopping the process of musealizzation and restarting the stratification process that have made it unique?
We compareRomewith coming up metropolis, old economy cities, and historical city; it happens that the density ofRomehas an opportunity to expand.
We propose a vertical city which can allow a comfortable growth of density in people and buildings.
We propose a new connectivity (loops) to avoid the traffic jams and to split the different people flows (tourist, employs, students, etc) that can give backRome to the Romans in the center, and bring quality and identity in the suburbs.
The vertical city and the loops create a new layer over the existing city:
-the loops are floating at more than 50 mt of high, letting the space necessary for the consolidated city to breath, at the same time they create new opportunity, new point of view on the city. The loop system can expand together with the city answering to the different demands and adapting to the locals needs.
-the vertical city let the density ofRome grow in a sustainable way: the towers and the support for the loops are not only buildings, but machine capable to generate energy. The scale of the project gives the opportunity to create new words that moves from the ground to the sky becoming incredible opportunity of design. We give toRome the chance of experiment with respect for the history but without awe.
Info:
Title:
WHAT WHY ANALYSE
Time:
16 marzo 2010
Category:
Rome
Views:
1585
Likes:
0
Tags:
-