Info:
Title:
ICT History reversing -
Code:
L3M5T9
Contest:
NY / 2012
By:
C. Charrat - L. Théaux
Views:
2539
Likes:
1
Votes:
JOSHUA PRINCE-RAMUS
2
EVA FRANCH I GILABERT
0
ROLAND SNOOKS
0
SHOHEI SHIGEMATSU
1
ALESSANDRO ORSINI
1
MITCHELL JOACHIM
3
1.2
ICT History reversing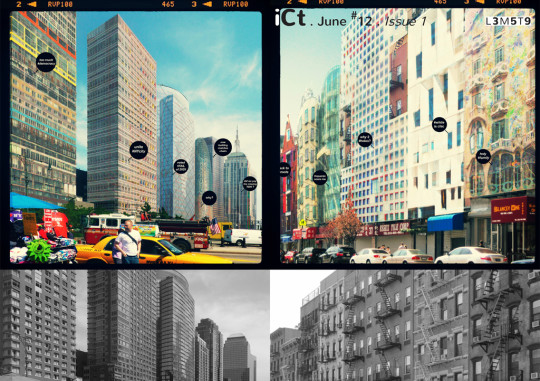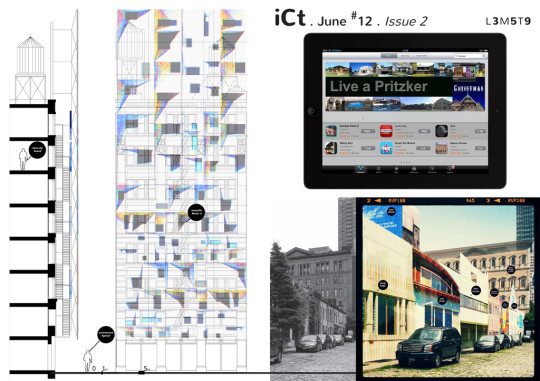 Future in the past was future. Future in the future will be past. Some decades ago, if you'd ask someone about future, he would reply : «space, flying cars…» A few years ago, he would reply : «no future». Today, he says : «the good old days». Communities' relationship with future has changed a lot since WWII. Conquest of space budgets now build museums to park space shuttles. Instead of looking to what's next, people now think «the past» is the way out of all their troubles. In western countries, urbanism is paralyzed by democracy. As everyone can give a different opinion, the only way to do something is to do what's been done before and has left a good impression.
 Also, we're living a time where technological «revolutions happen» every year. However, the finest technologies are biased. People use tech-jewels to post small-altered pictures on Instagram…Innovation rhythm has accelerated so much that architecture and urbanism can't follow. Trends and style change at a pace that never happened before. The time needed to build a project makes it old-fashioned the day it opens.
The Instagram of architecture.
How iCT takes architecture and urbanism to the 21st century.
Good or bad, «urbanism» is left as it is. No way to change anything unless of exceptional disaster, war or dictatorship. (Although, in the first two cases, we probably would choose to rebuild the same.)
If form can't change, image can. Construction has just to disappear behind a screen and leave the visible space to self-expression. Social networks (like Facebook, Twitter, Instagram…) have proven that people like to express themselves publicly, we give them an new way to do it.
iCT 1.0 is a screen in front of your house/building. It displays the facade you want.
It adjusts automatically to the right proportions, it's invisible from inside, it protects from the sunlight, the cold and the noise.
You can change the image as often as you want. You just have to buy new facades from the iCTstore.
The store provides facades to fit all your needs. Categorized by style, architect, material, year, geography. Everything from Phidias to Koolhaas.
With iCT, NYC and all the cities around the world will make a motionless step toward the future.
Of course iCT 2.0 will bring holographic extension to your building allowing you to add volumes to your house.
Be prepared to see CCTV buildings around the corner of your street.
Info:
Title:
ICT History reversing
Time:
13 giugno 2012
Category:
NY
Views:
2539
Likes:
1
Tags:
-