Info:
Title:
Outlook -
Code:
L8B4X7
Contest:
PFFF / 2012
By:
A. Sieprawski, E. Capel, L. Bélisle
Views:
2037
Likes:
0
Votes:
ITALO ROTA
0
BENJAMIN BALL
1
MARCO CANEVACCI
4
VANESSA TODARO
7
ANDREA BARTOLI
1
3.6
Outlook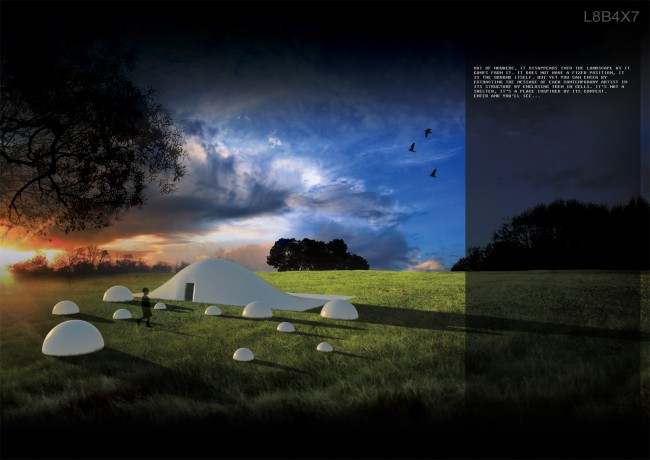 Outlook
Out of nowhere, it disappears into the landscape as it comes from it. It does not have a fixed position, it is the ground itself. But yet you can enter by extracting the message of each contemporary artist in its structure by enclosing them in cells. It's not a shelter, it's a place inspired by its context.
Light have no source point, not from any reality. The combination of bubble flows in a rule free universe where creation and art finds their places. The space that gushes out of the ground is the artists realities projected to the viewers as imagined by them. When gathered inside, it's a storm of ideas that surrounds everyone.
Technical information
The inflatable pavilion has an half perfect sphere shape with a diameter of 8m and provides a living area of 50m2. The cover attached to the structure, covers an area of 25m X 17m and surrounds the pavilion entirely; it is hold by simple hooks. All the cells are connected, creating one single tube not connected to the cover which only protects it. The inflation tip is under the cover which makes it undetectable once inflated. The system of hatch on top allowing air flow does not require any installation as it is formed during inflation of the structure. An opening is provided for access to the space under the cover to place the lighting and other systems if necessary. The pavilion can be inflated as many times as needed and be rolled for transport.
Choice of color
The color is not a definite choice, but strongly represents the concept.
Info:
Title:
Outlook
Time:
25 gennaio 2012
Category:
PFFF
Views:
2037
Likes:
0
Tags:
-