Info:
Title:
pfff – 99 balloons -
Code:
L9B5X8
Contest:
PFFF / 2012
By:
D. A. Schluderbacher-Girsch, G. Girsch
Views:
2266
Likes:
0
Votes:
ITALO ROTA
0
BENJAMIN BALL
1
MARCO CANEVACCI
7
VANESSA TODARO
8
ANDREA BARTOLI
1
4.6
pfff – 99 balloons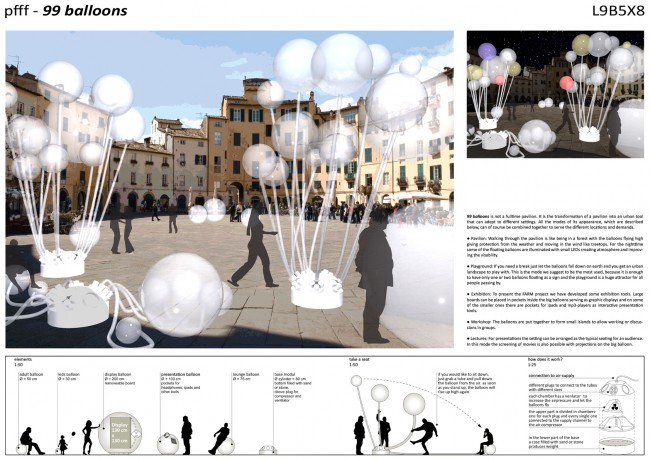 pfff – 99 balloons
Appearance and function
99 balloons is not a fulltime pavilion. It is the transformation of a pavilion into an urban tool that can adept to different settings. All the modes of its appearance, which are described below, can of course be combined together to serve the different locations and demands.
? Pavilion: Walking through the pavilion is like being in a forest with the balloons flying high giving protection from the weather and moving in the wind like treetops. For the nighttime some of the floating balloons are illuminated with small LEDs creating atmosphere and improving the visability.
? Playground: If you need a break just let the balloons fall down on earth and you get an urban landscape to play with. This is the mode we suggest to be the most used, because it is enough to have only one or two balloons floating as a sign and the playground is a huge attractor for all people passing by.
? Exhibition: To present the FARM project we have developed some exhibition tools. Large boards can be placed in pockets inside the big balloons serving as graphic displays and on some of the smaller ones there are pockets for ipads and mp3-players as interactive presentation tools.
? Workshop: The balloons are put together to form small islands to allow working or discussions in groups.
? Lectures: For presentations the setting can be arranged as the typical seating for an audience. In this mode the screening of movies is also possible with projections on the big balloon.
Construction
All balloons are made of PVC. The base cylinders are divided in two sections. The lower part serves as a pocket for sand and stone to gain weight (additional anchors are possible), through the upper part the air is directed via tubes into the balloons. The upper part of the base is the spot where ventilators are placed as well to let the balloons float.
The tubes are connected to the base with plastic screw plugs so it is easy to rearrange them for different settings. At the same time it is only possible to open the plugs with a special key, so the balloons cannot get carried away.
The balloons used for presentation tools also have pockets at their bottom. They can be filled with sand, earth or other material found at the place of the event to serve as anchors.
Info:
Title:
pfff – 99 balloons
Time:
25 gennaio 2012
Category:
PFFF
Views:
2266
Likes:
0
Tags:
-