Info:
Title:
(RE)CODING ROME -
Code:
00945
Contest:
Rome / 2010
By:
M. Klemens / K. Lokman
Views:
1840
Likes:
0
Votes:
JUERGEN MAYER H.
0
FRANCESCO LIPARI
5
FELIPE ESCUDERO
6
FRANCESCO GATTI
7
MICHAEL CATON
4
4.4
(RE)CODING ROME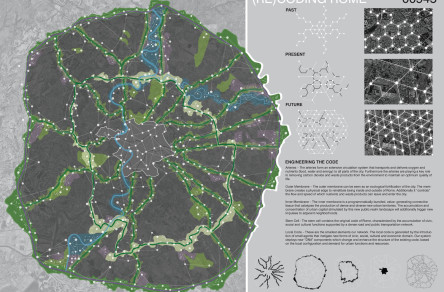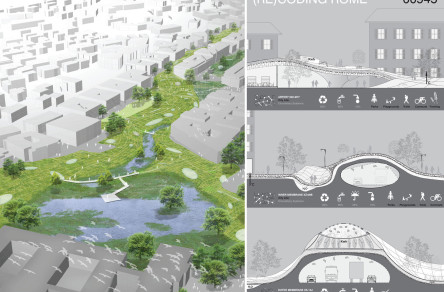 (RE)CODING ROME
Today, Rome is valued primarily for a 'dead' part of the city; the ruins and remains of Ancient Roman. This core, enclosed by the ancient walls, tells the story of innovative engineering and large scale tactics to instigate new forms of civic, social, cultural and economic domain. We see this part of the city as a stem cell, carrying the original code of Rome. The stem cell has operated as a foundation for Rome, as well as for many cities throughout the world.
In the nineteenth and twentieth century large-scale infrastructural developments once again instigated significant modifications to the code.  Only this time the infrastructural expansions caused pollution, congestion and segregation. Ecological systems and agricultural fields were fragmented and swallowed by uncontrolled sprawl and industries which even today continue to consume great amounts of non-renewable resources. This code is characterized by a single uses and lack of density.
We propose a third generation of large scale green infrastructure to re-code Rome. Our strategy is to introduce a network that transforms outdated infrastructure of both Ancient and post-industrial Rome, while at the same time creating new forms of civic and social domain. This new 'living' infrastructural typology is a combination of climate action, ecological urbanism, public realm, agricultural production, and economic catalyst. The result is a new code which has the ability to fundamentally improve the economic and social quality of a city, as well as the living environment of Rome's current and future residents.
ENGINEERING THE CODE
Arteries – The arteries form an extensive circulation system that transports and delivers oxygen and nutrients (food, water and energy) to all parts of the city. Furthermore the arteries are playing a key role in removing carbon dioxide and waste products from the environment to maintain an optimum quality of life.
Outer Membrane – The outer membrane can be seen as an ecological fortification of the city. The membrane creates a physical edge to reinstitute being inside and outside of Rome. Additionally it "controls" the flow and speed of which nutrients and waste products can leave and enter the city.
Inner Membrane – The inner membrane is a programmatically bundled, value- generating connective tissue that catalyzes the production of dense and diverse new urban territories. The accumulation and concentration of urban capital stimulated by this new public realm landscape will additionally trigger new impulses to adjacent neighborhoods.
Stem Cell – The stem cell contains the original code of Rome, characterized by the accumulation of civic, social and cultural functions supported by a dense road and public transportation network.
Local Code – These are the smallest elements our network. The local code is generated by the introduction of small agents that instigate new forms of civic, social, cultural and economic domain. Our system deploys new "DNA" components which change and enhance the structure of the existing code, based on the local configuration and demand for urban functions and resources.
CIRCULATORY SYSTEMS
In the last 35 years in the metropolitan area of Rome there was a threefold leap in terms of kilometers travelled, due to the increased length of trips and the number of vehicles (+650%). This growth has not been matched by a parallel development of the public transport system that has only recorded a 90% increase (in terms of kilometers travelled) during the same time period. The primary side effect of this failure of Rome's infrastructure system is high greenhouse gas emissions, particularly carbon dioxide.
We acknowledge that fossil fuel consumption must decrease, but we also see CO2 as a potential resource that can be harnessed in the urban environment. As such, we propose a circulatory system of membranes and arteries, creating an "ecological armature" that sequesters carbon at points along existing infrastructural networks to 'feed' and 'power' natural systems such as photosynthesis in plant life to produce bio-mass.
At the same time we use these circulatory systems to prepare Rome for peak oil and peak water by implementing systems that make use of wind, solar and geothermal technologies to capture alternative energy resources. The arteries and membranes are configured to regulate temperature, precipitation and other biologically mediated climactic processes at local and regional city levels. Additionally, the new infrastructure will play a key role in material recycling and the recovery of mobile nutrients and removal or breakdown of excess or xenic nutrients and compounds.
The local or site specific configuration of the circulatory systems responds both to geography (hydrology, slope, soil, location, aspect and soil type) as well as more indescribable data (demographics and population,). The result is a new Local Code, which "DNA" consists of elements such as public space, agriculture, hardscape, playgrounds and facilities for water retention.
Info:
Title:
(RE)CODING ROME
Time:
16 marzo 2010
Category:
Rome
Views:
1840
Likes:
0
Tags:
-