Info:
Title:
LIVING IN THE PAST -
Code:
00756
Contest:
Rome / 2010
By:
M. van Tuijl / D. Lembekker / R. van den Brink / T. Bergevoet
Views:
1940
Likes:
0
Votes:
JUERGEN MAYER H.
0
FRANCESCO LIPARI
4
FELIPE ESCUDERO
8
FRANCESCO GATTI
6
MICHAEL CATON
4
4.4
LIVING IN THE PAST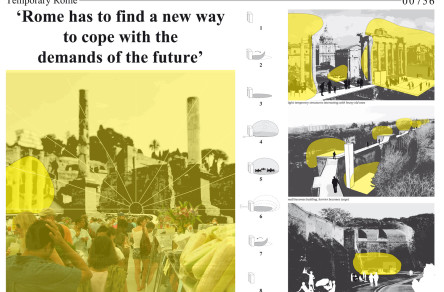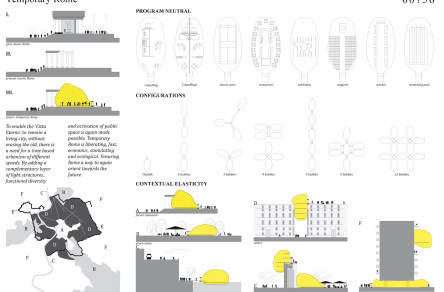 LIVING IN THE PAST
Rome has to find a new meaningful way for the existing city to cope with the needs of the future. At the moment the old is preserved at all cost and in doing so is blocking future potentials.
Large parts of the city have become mono-functional areas. The Forum Romanum, originally the heart of the city, nowadays is turned into an open air museum. The city walls that used to bind the Roman Citizens together, have become obstacles between the city centre and the areas where most Romans live and work nowadays. The Tiber, the former aorta of the city, has turned into a decorative pond. Green structures have become untouchable holy lands, residential area's  sleepy towns.
Can the Forum Romanum again become a vibrant centre full of life? Can the city walls again function as a connector instead of a separator? Can the Tiber again come to life? Is it possible to use green areas for new purposes in the future? Is it possible to wake up the sleepy towns?
SYNCH-ROME-CITY
To enable the 'Citta Eterna' to remain a living city, without erasing the old, there is a need for a time based urbanism of different speeds.
In the Roman Period there were several speeds of urbanism, based on the use different building technologies. Heavy stone and marble for the monumental public buildings emphasizing the permanent. Light temporary structures for more banal structures such as housing, markets or to enable fast military operations. Quickly fulfilling needs. By adding this complementary layer of light structures, functional diversity and activation of public space is again made possible. Temporary Rome is liberating, fast, economic, stimulating and ecological. Ensuring Rome a way to again orient towards the future.
TEMPORARY ROME                                              
PRINCIPLES OF A TEMPORARY ROME
If the past has showed one thing, it is that the future is unpredictable. Cities that are shrinking now, might grow again in the future. What now seems to be the next big challenge, may turn out to be irrelevant. On the other hand completely unexpected priorities might pop up overnight. That is why Temporary Rome is based on the following principles:
1. elasticity: Temporary Rome is programmatically neutral and able to fill in the gaps
2. lightness: Temporary Rome is light, re-usable, ecological and leaves no trace
3.  speed: Temporary Rome is fast, easy to erect and dismantle
ROMAN BUBBLE
Like the stone building block is the urban unit of the permanent city, the pneumatic Roman Bubble is the urban unit of Temporary Rome.  It constitutes of:
1. bubble-skin: a functionally neutral envelop, elastically merging with the site
2. bubble-interface: a program specific furniture inside the skin activating the generic bubble
3. bubble-glue: links, enabling bubbles to be configured into larger organizations
Info:
Title:
LIVING IN THE PAST
Time:
16 marzo 2010
Category:
Rome
Views:
1940
Likes:
0
Tags:
-