Info:
Title:
THE STUYVESANT ACT -
Code:
M3W7H6
Contest:
NY / 2012
By:
J. Combes - M. Filali - C. Besacier
Views:
3106
Likes:
0
Votes:
JOSHUA PRINCE-RAMUS
6
EVA FRANCH I GILABERT
2
ROLAND SNOOKS
1
SHOHEI SHIGEMATSU
1
ALESSANDRO ORSINI
0
MITCHELL JOACHIM
3
2.2
THE STUYVESANT ACT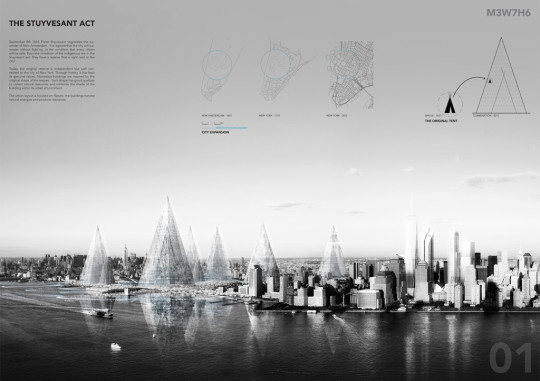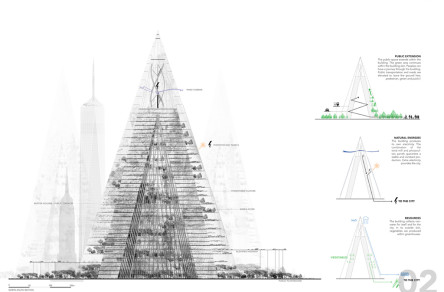 September 8th 1664: Pieter Stuyvesant negotiates the surrender of New Amsterdam.  It is agreed that the city will surrender without fighting, at the condition that every citizen will be safe. Even the condition of the indigenous are in the Stuyvesant act: They have a reserve that is right next to the city! Today, the original reserve is independent but well connected to the city ofNew York. Through history, it has kept its genuine values. Nowadays buildings are inspired by the original shape of the teepee.  Such shape has good qualities to collect natural resources and minimize the shade of the building within its urban environment. The urban layout is focused on Nature; the buildings harvest natural energies and produce resources.
PUBLIC EXTENSION
The public space extends within the building. The green area continues within the building skin. Peoples can have a journey through the building. Public transportation and roads are elevated to leave the ground free, pedestrian, green and public!
NATURAL ENERGIES
The building produces its own electricity. The combination of the wind mill and photovoltaic panels guarantee a stable and constant production. Extra electricity provides the city.
RESOURCES
The building collects rainwater for itself and for the city. In its outside skin, vegetables are produced within greenhouses.
Info:
Title:
THE STUYVESANT ACT
Time:
13 giugno 2012
Category:
NY
Views:
3106
Likes:
0
Tags:
-