Info:
Title:
New York -
Code:
N3Y5F6
Contest:
NY / 2012
By:
A. Adamovich
Views:
2370
Likes:
0
Votes:
JOSHUA PRINCE-RAMUS
6
EVA FRANCH I GILABERT
4
ROLAND SNOOKS
0
SHOHEI SHIGEMATSU
0
ALESSANDRO ORSINI
2
MITCHELL JOACHIM
2
2.3
New York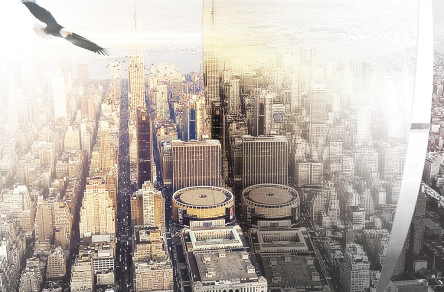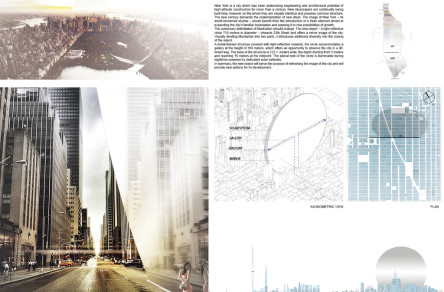 New York is a city which has been epitomizing engineering and architectural potential of high-altitude construction for more than a century. New skyscrapers are continually being built here, however on the whole they are visually identical and possess common structure. The new century demands the implementation of new ideas. The image of New York – its world-renowned skyline – would benefit from the introduction of a fresh element aimed at expanding the city's familiar boundaries and opening it to new possibilities of growth.
The customary delimitation of Manhattan should change. The new object – a light-reflective circle 718 meters in diameter – dissects 33th Street and offers a mirror image of the city. Visually dividing Manhattan into two parts, it introduces additional diversity into the zoning of the island.
A metal-framed structure covered with light-reflective material, the circle accommodates a gallery at the height of 359 meters, which offers an opportunity to observe the city in a different way. The base of the structure is 123,1  meters wide, the depth starting from 3 meters and reaching 15 meters at the midpoint. The lateral side of the circle is illuminated during nighttime powered by dedicated solar batteries.
In summary, the new object will serve the purpose of refreshing the image of the city and will provide new options for its development.
Info:
Title:
New York
Time:
13 giugno 2012
Category:
NY
Views:
2370
Likes:
0
Tags:
-