Info:
Title:
NEW [YORK] BABYLON -
Code:
N5P3A8
Contest:
NY / 2012
By:
D. Hernàndez Falagàn - G. Brau Pani - L. Aitor Martinez - I. Nagore Setièn - M. Rodríguez Torriano
Views:
3389
Likes:
1
Votes:
JOSHUA PRINCE-RAMUS
4
EVA FRANCH I GILABERT
4
ROLAND SNOOKS
1
SHOHEI SHIGEMATSU
3
ALESSANDRO ORSINI
0
MITCHELL JOACHIM
1
2.2
NEW [YORK] BABYLON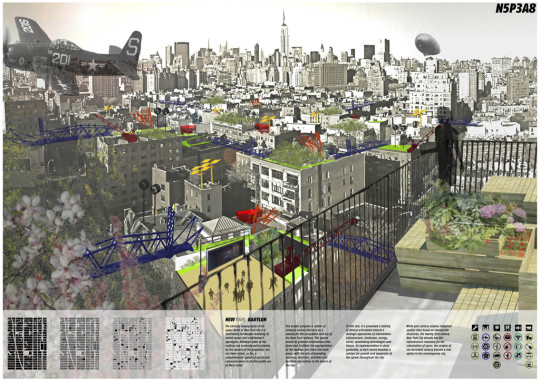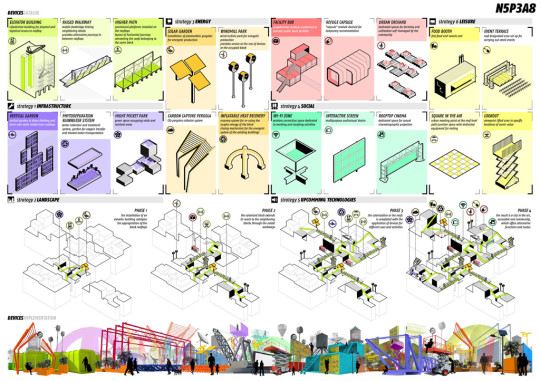 The existing topography of the upper levels ofNew York Cityis a fascinating landscape consisting of varied spaces and architectural typologies. Although some of the rooftops are currently used privately by the owners of the properties, has not been raised, so far, a comprehensive system of access and communications to facilitate public use of these areas. This project proposes a system of strategic actions that acts as a catalyst for the occupation and use of theNew York rooftops.  This system consists of gradual interventions that favor and facilitate the appropriation of the rooftops and front-end walls areas, with the aim of providing journeys, functions, activities and facilities alternatives to the level 0 city. To this end, it is presented a catalog of devices articulated around 6 strategic approaches of intervention: infrastructure, landscape, energy, social, leisure and upcoming technologies. Its implementation is done gradually, so each device becomes a catalyst for growth and expansion of the system throughout the city.
While past century utopias imagined spatial cities based on implausible structures, the twenty-first centuryNew York Cityalready has the infrastructure necessary for the colonization of space; the utopias of the twentieth century become a real option in the contemporary city.
DEVICES CATALOG
Strategy 1 – INFRASTRUCTURE
ElevatorBuilding- Raised Walkway – Higher Path
Strategy 2 – LANDSCAPE
VerticalGarden- Phytodepuration Rainwater Wystem – Hight Pocket Park
Strategy 3 – ENERGY
Solar Garden -WindmillPark- Carbon Capture Pergola – Inflatable Heat Recovery
Strategy 4 – SOCIAL
Facility Box – Refuge Capsule – Urban Orchard
Strategy 5 – UPCOMMING TECHNOLOGIES
Wi-Fi Zone – Interactive Screen – Rooftop Cinema
Strategy 6 – LEISURE
Food Booth – Event Terrace – Square in the Air – Lookout
DEVICES IMPLEMENTATION
Phase 1
The installation of an elevator building catalyzes the appropriation of the block rooftops.
Phase 2
The colonized block extends its reach to the neighboring blocks through the raised walkways.
Phase 3
The colonization of the roofs is completed with the application of devices for different uses and activities.
Phase 4
The result is a city in the air, accessible and community, which offers alternative functions and routes.
Info:
Title:
NEW [YORK] BABYLON
Time:
13 giugno 2012
Category:
NY
Views:
3389
Likes:
1
Tags:
-