Info:
Title:
Icons -
Code:
N7Q2A8
Contest:
NY / 2012
By:
D. Vecchi - E. Ortolani
Views:
2881
Likes:
0
Votes:
JOSHUA PRINCE-RAMUS
5
EVA FRANCH I GILABERT
3
ROLAND SNOOKS
3
SHOHEI SHIGEMATSU
1
ALESSANDRO ORSINI
4
MITCHELL JOACHIM
1
2.8
Icons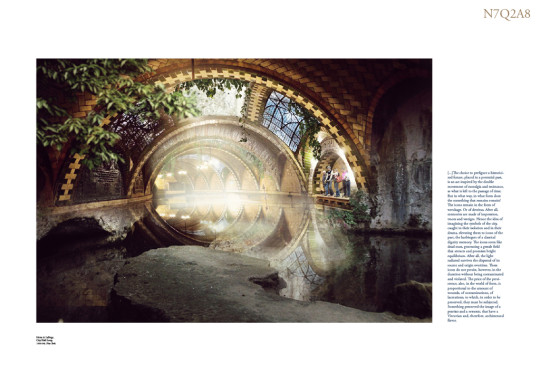 In This Must be The Place, the latest film by Paolo Sorrentino, Cheyenne, the old rockstar played by Sean Penn, has stopped playing long ago. A young boy who asks him to sing This Must Be The Place by Arcade Fire persuades him to pick up the guitar again. He corrects him -  "the songs is by Talking Heads" – but the youngster doesn't even know who they are, because he only knows the cover version of the song by the famous Canadian band. This apparently has its finger on the pulse of the relationship with the past. For a very long time we have foregone that role that in the 20th century, was fulfilled by a need for the new and original. To us, currently, it is no longer important to formulate an aesthetic hypothesis that places itself at the summit of the evolutionist, Darwinian process, of a time that contains all previous experiences and transcends them in the object in question. We look more back than around, not so much in search of something away from our time and to which history has attributed value, but as thought unbalanced and disorientated by the lack of a strong anchorage of a safe landing. Of course, we find it difficult to locate the reason in the present: we lack the certainties, the points of reference. That is why the episode of the cover is useful to use here.
Image today a science fiction future sound as a remake. For this reason we prefer to prefigure a historicized future, placed in a potential past, is an act inspired by the double movement of nostalgia and resistance, as what is left to the passage of time. But in what way, in what form does the something that remains remain? The icons remain in the form of wreckage. Or of detritus. After all, memories are made of impression, traces and vestiges. Hence the idea of imagining the symbols of the city, caught in their isolation and in their drama, elevating them to icons of the past, the harbingers of a classical dignity memory. The icons seem like dead stars, generating a gestalt field that attracts and promises bright equilibrium. After all, the light radiated survives the dispersal of its source and origin overtime. These icons do not persist, however, in the duration without being contaminated and violated. The price of the persistence, also, in the world of form, is proportional to the amount of wounds, of contaminations, of lacerations, to which, in order to be preserved, they must be subjected. Something preserved the image of a gravitas and a venustas, that have a Vitruvian and, therefore, architectural flavor.
Info:
Title:
Icons
Time:
13 giugno 2012
Category:
NY
Views:
2881
Likes:
0
Tags:
-