Info:
Title:
Natural Load NY -
Code:
A4S3T5
Contest:
NY / 2012
By:
L. MOGENYTĖ - A. GRIGAS - D. ČIŪTA - A. VALAITIS
Views:
2799
Likes:
1
Votes:
JOSHUA PRINCE-RAMUS
5
EVA FRANCH I GILABERT
4
ROLAND SNOOKS
4
SHOHEI SHIGEMATSU
3
ALESSANDRO ORSINI
5
MITCHELL JOACHIM
5
4.3
Natural Load NY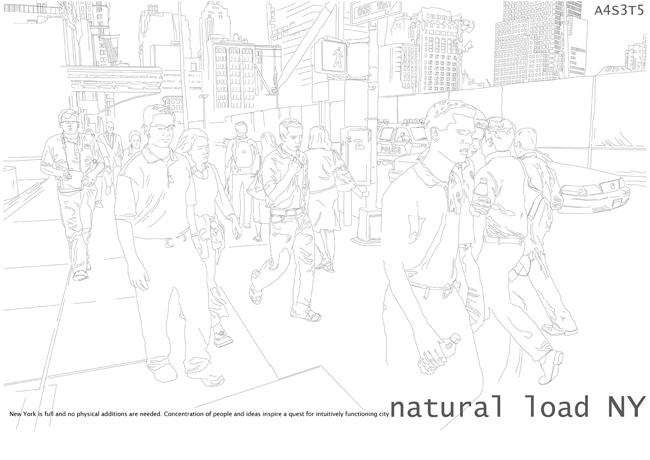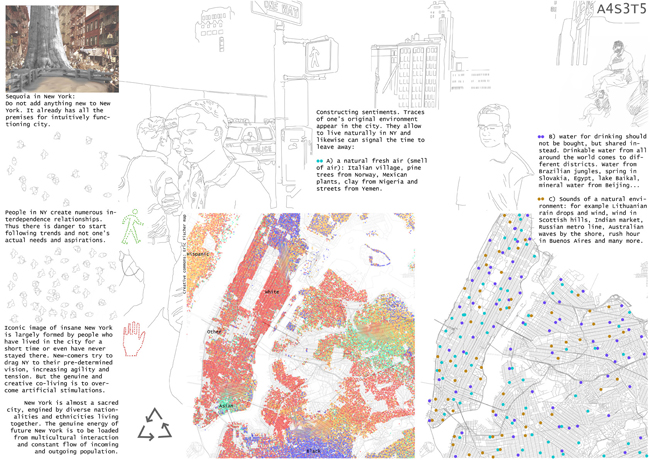 Do not add anything new to New York. It already has all the premises for intuitively functioning city. People in NY interact intensely, creating numerous interdependence relationships. Thus there is a danger to start following trends in life and not one's actual needs and aspirations.
Iconic image of insane New York is largely formed by people who have lived in the city for a short time or even have never stayed there. New-comers try to drag NY to their pre-determined vision, increasing agility and tension. But the genuine and creative co-living is to overcome artificial stimulations.
New York is almost a sacred city engined by diverse nationalities and ethnicities living together. The genuine energy of future New York is to be loaded from multicultural interaction and constant flow of incoming and outgoing population.
Constructing sentiments. Traces of one's original environment appear in the city. They allow to live naturally in NY and likewise signal the time to leave away:
A) a natural fresh air (smell of air): Italian village, pine trees from Norway, Mexican plants, clay from Nigeria and streets from Yemen.
B) water for drinking should not be bought, but shared instead. Drinkable water from all around the world comes to different districts. Water from Brazilian jungles, spring in Slovakia, Egypt, lakeBaikal, mineral water from Beijing.
C) sounds of a natural environment: for example Lithuanian rain drops and wind, wind in Scottish hills, Indian market, Russian metro line, Australian waves by the shore, rush hour in Buenos Aires and many more.
Info:
Title:
Natural Load NY
Time:
25 giugno 2012
Category:
NY
Views:
2799
Likes:
1
Tags:
-