Info:
Title:
Haustorial Colonies -
Code:
P5L2M6
Contest:
NY / 2012
By:
C. Shivers
Views:
2066
Likes:
0
Votes:
JOSHUA PRINCE-RAMUS
3
EVA FRANCH I GILABERT
1
ROLAND SNOOKS
1
SHOHEI SHIGEMATSU
0
ALESSANDRO ORSINI
3
MITCHELL JOACHIM
2
1.7
Haustorial Colonies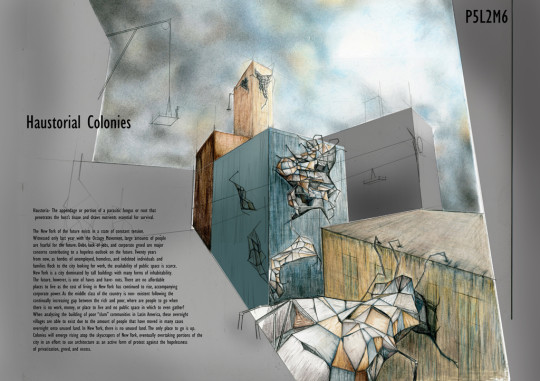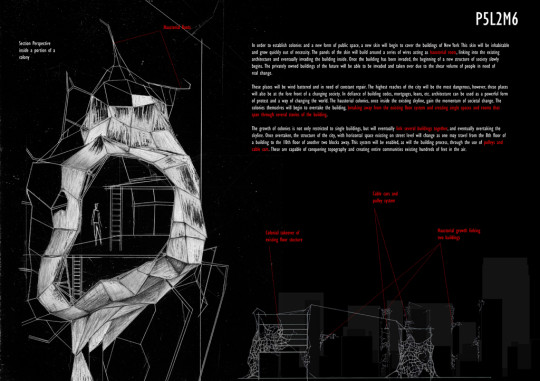 Haustoria - The appendage or portion of a parasitic fungus or root that penetrates the host's tissue and draws nutrients essential for survival.  The New York of the future exists in a state of constant tension. Witnessed only last year with the Occupy Movement, large amounts of people are fearful for the future. Debt, lack of jobs, and corporate greed are major concerns contributing to a hopeless outlook on the future. Twenty years from now, as hordes of unemployed, homeless, and indebted individuals and families flock to the city looking for work, the availability of public space is scarce. New York is a city dominated by tall buildings with many forms of inhabitability.
The future, however, is one of haves and have- nots. There are no affordable places to live as the cost of living in New York has continued to rise, accompanying corporate power. As the middle class of the country is non- existent following the continually increasing gap between the rich and poor, where are people to go when there is no work, money, or place to live and no public space in which to even gather?
When analyzing the building of poor "slum" communities in Latin America, these overnight villages are able to exist due to the amount of people that have moved in many cases overnight onto unused land. In New York, there is no unused land. The only place to go is up.
Colonies will emerge rising atop the skyscrapers of New York, eventually overtaking portions of the city in an effort to use architecture as an active form of protest against the hopelessness of privatization, greed, and excess.
Info:
Title:
Haustorial Colonies
Time:
13 giugno 2012
Category:
NY
Views:
2066
Likes:
0
Tags:
-