Info:
Title:
Land Use Arena (2.0) -
Code:
P5T8S1
Contest:
NY / 2012
By:
C. Gallizioli - C. Geroldi - C. Lunelli - P. Patelli
Views:
1841
Likes:
2
Votes:
JOSHUA PRINCE-RAMUS
5
EVA FRANCH I GILABERT
5
ROLAND SNOOKS
1
SHOHEI SHIGEMATSU
1
ALESSANDRO ORSINI
0
MITCHELL JOACHIM
6
3.0
Land Use Arena (2.0)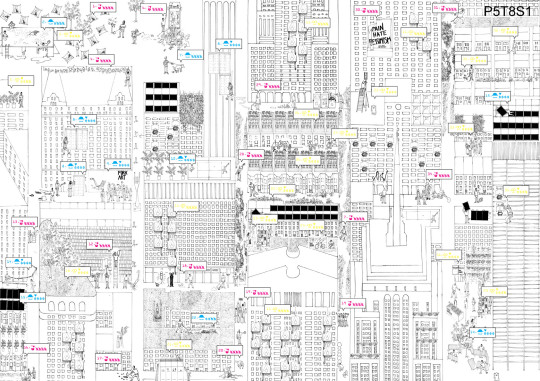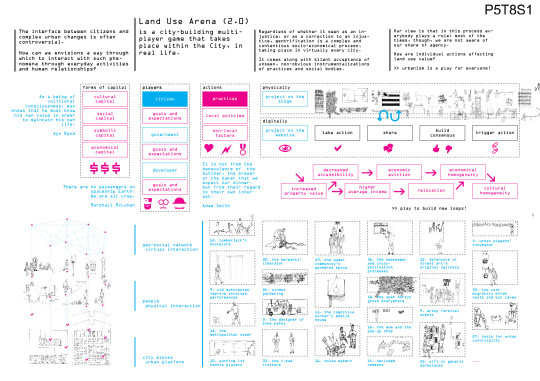 The interface between citizens and complex urban changes is often controversial. Our project envisions a way through which to interact with such phenomena through everyday activities and human relationships, instead of only through technical and exclusive means, which are normally reserved to experts and practitioners with special interests. In particular, our aim is to produce and explore possibilities for people to be more attentive and relevant, in charge and in control of important changes within the urban structures. We look at how phenomena of gentrification and citizens' habits are affecting each other and could be consciously orchestrated, individually, collectively, from below. In fact, regardless of whether it seen as an injustice, or as a correction to an injustice – gentrification is a complex and contentious socio-economical process, which is taking place in virtually every city, where wealthier people ("gentry") acquire or rent property in low income and working class communities. This generally results in decreased social accessibility to places and services and in the displacement of the poorer, pre-gentrification residents. Urban gentrification occasionally changes the culturally heterogeneous character of a community or neighborhood to a more economically homogeneous one.
 Our view is that in this process everybody plays a role; most of the times, though, we are not aware of our share of agency.
Urbanism is a game for everyone and Land Use Arena (2.0) is just a literal representation of that: a city-building multiplayer game that takes place within the City, in real life.
Taking advantage of web 2.0 tools and media, the platform allow citizens to explore each other's role, addressing the traditional disconnect between everyday patterns and bigger changes. Visualizing how actions are affecting land use value in real time, we might be able to challenge non-obvious instrumental abuses of social practices and bodies.
In fact – as it is often the case in New York City – even participated projects, as they are adopted by subsequent groups and formally repeated across the city and the Internet, can end up just codifying a set of visual aesthetics, programmatically rendered in bright colors, eventually losing their role as acts of tactical difference and becoming welcoming sets for potential participants; they assume the role of "lo-fi" country clubs in urban locations. When processes of gentrification are vexed and contentious, though, they can raise waves of resistance, that sometimes produce bursts of violence.
Our project is a way to avoid that. We ask humanity to work continuously in the cracks of urban dynamics, to explore the links between us – citizens and individuals within networks of individuals –  and our city's metabolism; we seek to become subjects, to territorialize our presence within the contested space of the metropolis, in order to be fully aware of our role within it, of our will and share of agency.
Info:
Title:
Land Use Arena (2.0)
Time:
13 giugno 2012
Category:
NY
Views:
1841
Likes:
2
Tags:
-