Info:
Title:
Pfff PAVILION -
Code:
P7B3S9
Contest:
PFFF / 2012
By:
A. Capriotti
Views:
2119
Likes:
0
Votes:
ITALO ROTA
0
BENJAMIN BALL
1
MARCO CANEVACCI
4
VANESSA TODARO
3
ANDREA BARTOLI
1
3.2
Pfff PAVILION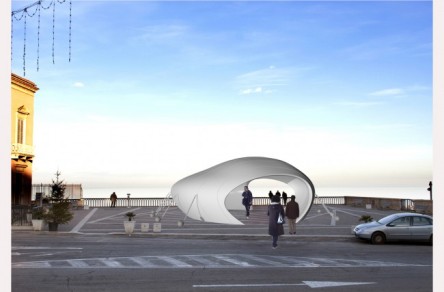 Dimensions
Plan: 50 sq m
Covered area: 84 s qm
Indoor maximum height: 3.65 m
Outdoor maximum height: 3.90 m
The touring pavilion with a fluent geometry and white ice coloured, will be made of heat-sealed PVC and will use the entrapped air inflation method (it still inflated, without having the inflator continually working).
The inflation and the deflation will need few minutes, hooking up to a dedicated valve the portable pump, battery controlled, with quick coupling.
The choice of material (PVC) and type of inflation have been suggested from the following factors:
Possibility to install the pavilion in any place in absence of electric energy as well;
Electric energy saving;
Intended use of the pavilion (conferences, presentations, video installations, etc.), which requires the total absence of noise.
The pavilion will be anchored to the ground with 40 mm wide nylon ropes, snap-hooks and concrete made ballasts each one weighing 40 kg, to the amount of 440 kg.
The stability of the pavilion will be guaranteed with winds not exceeding 40 km per hour.
Info:
Title:
Pfff PAVILION
Time:
25 gennaio 2012
Category:
PFFF
Views:
2119
Likes:
0
Tags:
-