Info:
Title:
1:7 CUBE -
Code:
Q7T3W8
Contest:
PFFF / 2012
By:
V. Andriulli, G. Gaudenzi, S. Solimene, M. Terzi
Views:
3336
Likes:
0
Votes:
ITALO ROTA
4
BENJAMIN BALL
7
MARCO CANEVACCI
6
VANESSA TODARO
7
ANDREA BARTOLI
1
5.0
1:7 CUBE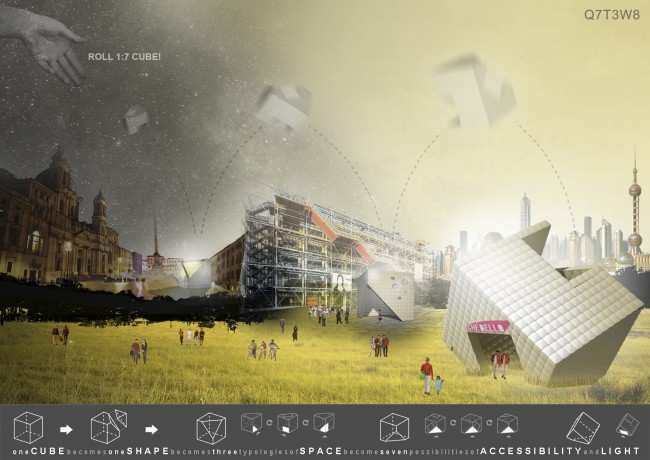 1:7 CUBE
A Cube is a solid contained by six equals squares, an archetype, a common experience, a primitive mental image, a recurrent symbol.
So the pavilion is a cube, an icon, a familiar and unforgettable image; it is the unique witness to an event which can temporally change the normal perception of a square, a courtyard or a park, becoming part of the place's history. It is an object which every time interacts with the context, in conflict or in harmony with its surroundings.
A Shape arises from the privation of a cube's vertex, an action that transforms a static object in a dynamic one. This act generates the pavilion's shape, a prism which adopts different configurations rolling on its faces according to needs and places, transforming its walls in floors and roofs in walls. It is an object that changes day by day remaining true to itself.
Three typologies of space are due to the triangular face positions and functions, created by the cutting action:
the triangle as "entrance" guarantees the continuity between internal space and context
the triangle as "skylight" creates a big window looking over the sky
the triangle as "floor" reveals a space that betrays the primitive shape and surprises visitors.
Seven possibilities of accessibility and light. Each face has openings that become entrance doors, windows or skylights depending on configuration. The three typologies produce seven possibilities to use the pavilion, rolling on the seven faces. The choice is always made by the user.
Technical notes:
The pavilion can be easily carried in a package of dimension 2,30×2,30×1,50 meters, 900/1000 kilos weight. The kit includes seven faces and eight foundation elements.
Each pavilion's face is an independent inner tube made of white PVC, marked by reinforcing modular seams having a 50 centimeters step.
Each opening is an independent inner tube made of transparent PVC that can be both removed and repositioned according to climatic conditions, context and users' sensibility.
The faces have variable section with a slight swelling in the middle. This shape promotes resistance to inflection and wind horizontal thrust and favorites waste water runoff.
The connection system within the faces is made of zippers, so it's possible to take off the chosen elements as desired.
In each configuration the "floor-inner tube" is replaced with linear foundations running along the perimeter, allowing the context to enter in the pavilion. The foundation system is made up of modular PVC elements filled with water and joined to the vertical faces via zippers.
ROLL 1:7 CUBE AND ENJOY IT. WHICH IS YOUR FAVOURITE CONFIGURATION?
Info:
Title:
1:7 CUBE
Time:
25 gennaio 2012
Category:
PFFF
Views:
3336
Likes:
0
Tags:
-