Info:
Title:
The Agrarian Dream . . . -
Code:
Q8J4D9
Contest:
NY / 2012
By:
Z. Saunders - L. Cao - M. English
Views:
2363
Likes:
3
Votes:
JOSHUA PRINCE-RAMUS
4
EVA FRANCH I GILABERT
4
ROLAND SNOOKS
1
SHOHEI SHIGEMATSU
3
ALESSANDRO ORSINI
1
MITCHELL JOACHIM
1
2.3
The Agrarian Dream . . .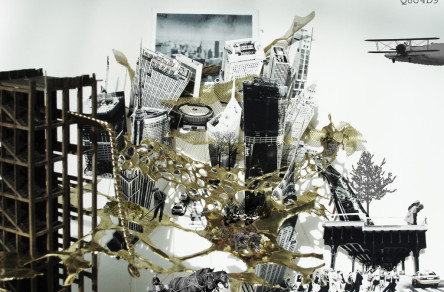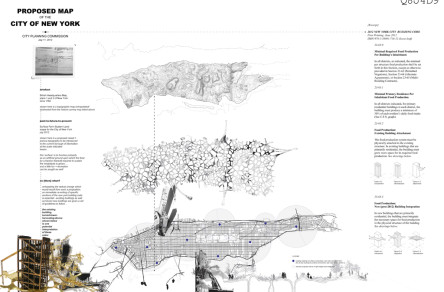 WRITTEN REPORT/ DESCRIPTION : The Iconic City ,The Agrarian Dream . . . Can we have it both ways? New York City, an ever-growing organism an amalgam of pasts, presents and potential futures …# A city whose relationship to Time is to master it, to beat it, even to deny its' existence whole-heartedly. The city of today consists primarily of a closed-system of transitional paths as well as an antithetical yet parallel system of inhabitable chambers … there is no threshold. artefact British Headquarters Map plans 1 and 2 of New York circa 1782 a topographic map dated from pre-grid manhattan.
past-to-future-to-present
Surface Farm-System-Land-
scape for the City of New York.
july 2012
the project calls for a raised +
porous topography to be introduced
to the current borough of Manhattan.
this 'surface' is to function primarily
as an artificial ground upon which the food
[or a fraction thereof] required to sustain
the inhabitants is grown …
and a little fun + recreation can be sought as well!
so [then] what?
anticipating the radical change which would result from such a proposition, an immediate re-writing of specific sections of the new york building code is essential – existing buildings as well as future/ new buildings are given a set of guidelines to follow … multiple interpretations arise.
Info:
Title:
The Agrarian Dream . . .
Time:
13 giugno 2012
Category:
NY
Views:
2363
Likes:
3
Tags:
-