Info:
Title:
Rome: giardino di fontane -
Code:
00437
Contest:
Rome / 2010
By:
S. Ivanov / E. Rechkalov
Views:
1754
Likes:
0
Votes:
JUERGEN MAYER H.
5
FRANCESCO LIPARI
2
FELIPE ESCUDERO
4
FRANCESCO GATTI
6
MICHAEL CATON
5
4.4
Rome: giardino di fontane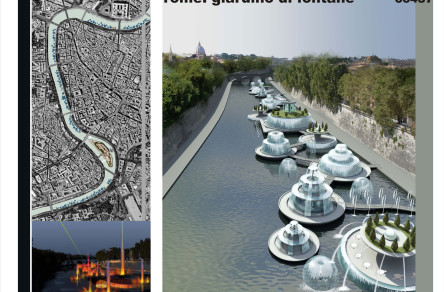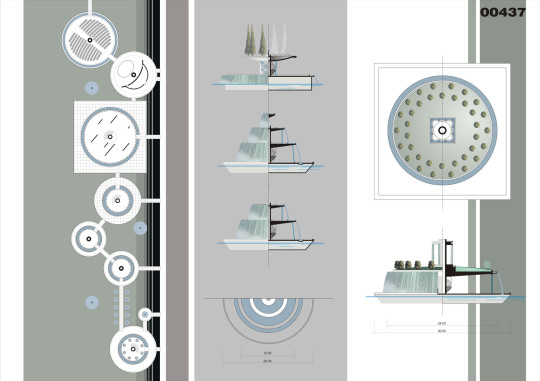 rome: giardino di fontane
Since the time immemorial theTiberRiverhas not been involved in the city life ofRome. It has neither become the functional nor compositional city centre. It is just the boarder between city districts crossed by bridges.
The main aim of this project is to involve the river into the city life by turning it into a social and cultural centre.
The project suggests organisation of fountain gardens on the riverTiber. Single fountains are united together to form a floating walking area with different public facilities such as cafes, exhibition halls, shopping areas, halls for concerts and spectacles, greenhouses etc. The gardens might be full of waterworks, including auromata, musical and light fountains.
Goals to be achieved:
Aesthetic goals. Traditionally, fountains have been always used for decoration of Roman squares. The fountain gardens became new attraction forRome.
Social goals. A new walking area in the city centre attractive for people can become a place where musical and light concerts can be held.
Ecological. Having been primary cleaned in the fountains, water from theTibergets enriched with oxygen. Moreover, the air humdification in hot climate  may produce a beneficial microclimatic effect.
The fountains are set up on 2- or 3-level platforms joined with bridges. The lower level is aimed to go through and to place different functional zones.  The upper level can be also used for such needs if required.
The fountain equipment is placed in the underwater level.
The widely used computer-control equipment and modern IT allow to hold musical-light and water performances. The audience can watch them both from the embankment and from the fountain complex.
Info:
Title:
Rome: giardino di fontane
Time:
16 marzo 2010
Category:
Rome
Views:
1754
Likes:
0
Tags:
-