Info:
Title:
FORECASTING NEW YORK CITY'S EVOLUTION -
Code:
S1L2D8
Contest:
NY / 2012
By:
Carlos Sarmiento and Elaina DeMeyere
Views:
2218
Likes:
4
Votes:
JOSHUA PRINCE-RAMUS
3
EVA FRANCH I GILABERT
1
ROLAND SNOOKS
1
SHOHEI SHIGEMATSU
2
ALESSANDRO ORSINI
4
MITCHELL JOACHIM
4
2.5
FORECASTING NEW YORK CITY'S EVOLUTION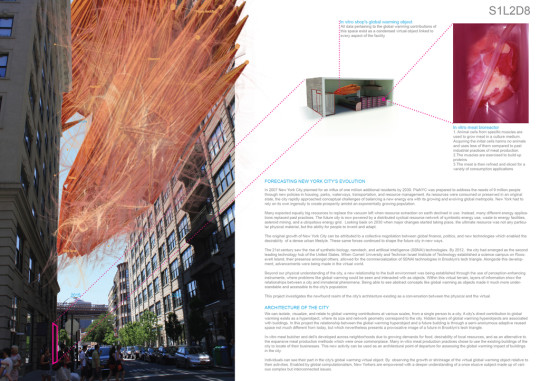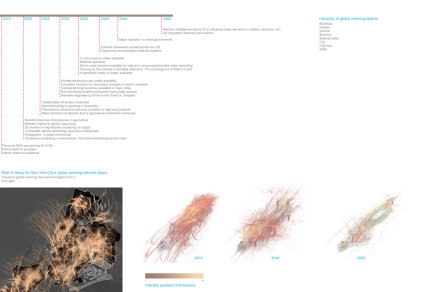 In 2007 New York City planned for an influx of one million additional residents by 2030. PlaNYC was prepared to address the needs of 9 million people through new policies in housing, parks, waterways, transportation, and resource management. As resources were consumed or preserved in an original state, the city rapidly approached conceptual challenges of balancing a new energy era with its growing and evolving global metropolis. New York had to rely on its own ingenuity to create prosperity amidst an exponentially growing population. Many expected equally big resources to replace the vacuum left when resource extraction on earth declined in use. Instead, many different energy applications replaced past practices. The future city is now powered by a distributed cyclical resource network of symbiotic energy use, waste to energy facilities, asteroid mining, and a ubiquitous energy grid. Looking back on 2030 when major changes started taking place, the ultimate resource was not any particular physical material, but the ability for people to invent and adapt.
The original growth of New York City can be attributed to a collective negotiation between global finance, politics, and new technologies which enabled the desirability of a dense urban lifestyle. These same forces continued to shape the future city in new ways.
The 21st century saw the rise of synthetic biology, nanotech, and artificial intelligence (SBNAI) technologies. By 2012, the city had emerged as the second leading technology hub of the United States. When Cornell University and Technion Israel Institute of Technology established a science campus on Roosevelt Island, their presence amongst others, allowed for the commercialization of SBNAI technologies in Brooklyn's tech triangle. Alongside this development, advancements were being made in the virtual world.
Beyond our physical understanding of the city, a new relationship to the built environment was being established through the use of perception-enhancing instruments, where problems like global warming could be seen and interacted with as objects. Within this virtual terrain, layers of information show the relationships between a city and immaterial phenomena. Being able to see abstract concepts like global warming as objects made it much more understandable and accessible to the city's population.
This project investigates the newfound realm of the city's architecture existing as a conversation between the physical and the virtual.
Architecture of the City
We can isolate, visualize, and relate to global warming contributions at various scales, from a single person to a city. A city's direct contribution to global warming exists as a hyperobject, where its size and network geometry correspond to the city. Hidden layers of global warming hyperobjects are associated with buildings. In this project the relationship between the global warming hyperobject and a future building is through a semi-anonymous adaptive reused space not much different from today, but which nevertheless presents a provocative image of a future in Brooklyn's tech triangle.
In-vitro meat butcher and deli's developed across neighborhoods due to growing demands for food, desirability of local resources, and as an alternative to the expansive meat production methods which were once commonplace. Many in-vitro meat production practices chose to use the existing buildings of the city to locate of their businesses. This new activity can be used as an architectural point of departure for assessing the global warming impact of buildings in the city.
Individuals can see their part in the city's global warming virtual object. By observing the growth or shrinkage of the virtual global warming object relative to their activities. Enabled by global computationalism, New Yorkers are empowered with a deeper understanding of a once elusive subject made up of various complex but interconnected issues.
Info:
Title:
FORECASTING NEW YORK CITY'S EVOLUTION
Time:
13 giugno 2012
Category:
NY
Views:
2218
Likes:
4
Tags:
-