Info:
Title:
Histrory of the future of New York -
Code:
T1W9M3
Contest:
NY / 2012
By:
A. Tommasetti - D. Calisi - E. Bosco - R. Topputo - M.I. Sacchetti
Views:
3200
Likes:
11
Votes:
JOSHUA PRINCE-RAMUS
3
EVA FRANCH I GILABERT
2
ROLAND SNOOKS
3
SHOHEI SHIGEMATSU
3
ALESSANDRO ORSINI
0
MITCHELL JOACHIM
2
2.2
Histrory of the future of New York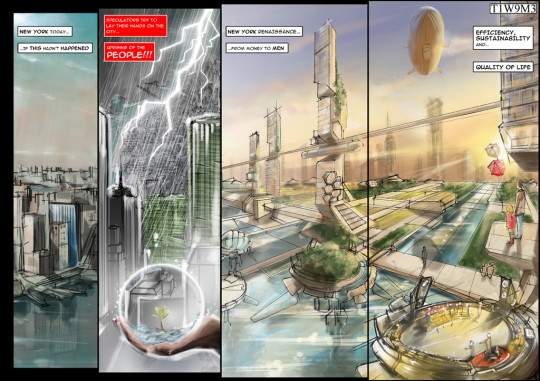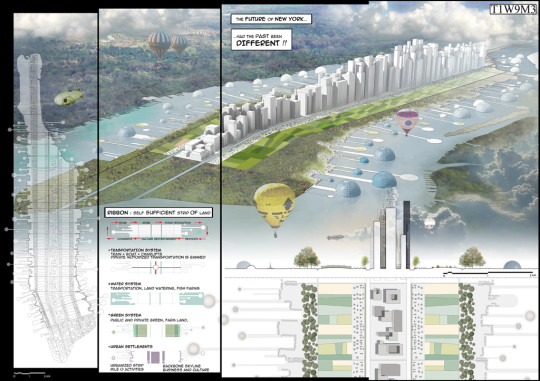 Our Histrory of the future of New York… …starts around the 1870s when New Yorkers began to protest because of the loss of light and air as taller residential buildings began to appear in Manhattan. In response, the state legislature enacted a series of height restrictions on residential buildings, culminating in the Tenement House Act of 1901. But these restrictions didn't satisfy the inhabitants of New York and when in 1916 the Zoning Law was first submitted the public opinion was aware that large portions of the population would be forced to leave the city because of skyrocketing prices. The Past Shock: New Yorkers refused to hand the city over to finance businessman and speculators. Street parades, protests and terrorist attacks that lasted several months pressured administrations to undergo a profound re-planning of the city structure.
A negotiation had to be achieved for the coexistence of business and people's needs. It was also the last occasion for the city to be freed from traffic and pollution, a chance re-establish part of the existing natural habitat, create a connection with the surrounding environment, implement a sustainable development model in all society segments, from craftsmanship, to production, to services, to finance and business while putting mankind at the center of this Universe in a true New York Renaissance…from Money to Men. Instead of the Grid as we know it today, a different project was submitted:
Phase 1: An orthogonal grid made by a series of artificial canals (17 horizontal and 4 vertical) was dug . In the meantime, gradually, downtown and several stripes of land running N/S were freed by all buildings.
Phase 2: The new grid is progressively implemented: a backbone of high rises are built around the center of the island running vertically (North to South). On each side two large canals separate this area dedicated to commerce, business and culture from the residential district. This separation avoids that the smaller apartment buildings are oppresses by skyscrapers and can enjoy air, light and a view over the canals or the surrounding green areas.
Phase 3: Cultivated land, forests and a productive waterfront are included in the plan and connect the residential areas to the sea. At this stage the city point of reference isn't the "Block" but the much bigger "Ribbon": a strip of land that covers the Manhattan Island from East to West, embracing the corresponding waterfront areas, and which is held within two horizontal canals. Each Ribbon is a self sufficient environment in the production of fresh food and requires the smallest amount of movement for any given activity as most of what is produced within the Ribbon is consumed or transformed in situ.
A communication and transportation system is being implemented, while private motorized means are banned:
- Local: a series of chairlifts and trails, some of which are motorized speed walks, to be travelled on foot or bike allow movement in all directions.
- Local horizontal: a series of hubs for public local boats and tramways are dislocated to allow East/West movements within each Ribbon.
- Medium distance vertical: a suspended fast monorail train connects North/South and is placed alongside the central high-rise area serving business and cultural activities.
- Long distance external: a network of public boats that connects the waterfront areas.
At the end no compromise at the expense of one or the other party had to be made, but the spirit has been that of satisfying all needs at the same time: efficiency, sustainability, and quality of life.
Info:
Title:
Histrory of the future of New York
Time:
13 giugno 2012
Category:
NY
Views:
3200
Likes:
11
Tags:
-