Info:
Title:
RADIAL NEIGHBORHOOD ZONING -
Code:
T6F7S4
Contest:
NY / 2012
By:
F. Schwartz Architects
Views:
2391
Likes:
0
Votes:
JOSHUA PRINCE-RAMUS
2
EVA FRANCH I GILABERT
1
ROLAND SNOOKS
1
SHOHEI SHIGEMATSU
2
ALESSANDRO ORSINI
0
MITCHELL JOACHIM
0
1.0
RADIAL NEIGHBORHOOD ZONING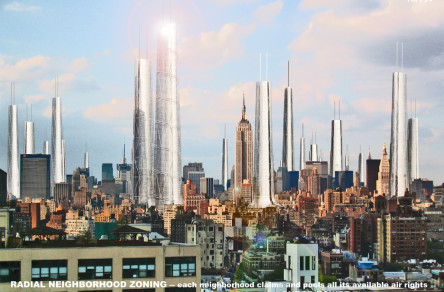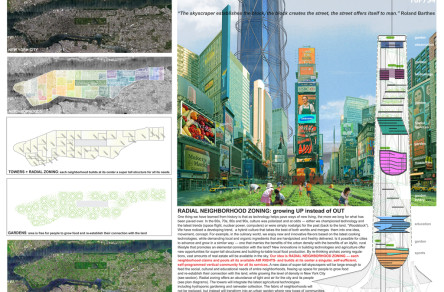 RADIAL NEIGHBORHOOD ZONING: growing UP instead of OUT One thing we have learned from history is that as technology helps pave ways of new living, the more we long for what has been paved over. In the 60s, 70s, 80s and 90s, culture was polarized and at odds ? either we championed technology and the latest trends (space flight, nuclear power, computers) or were simply nostalgic for the past (back to the land, "Woodstock"). We have noticed a developing trend, a hybrid culture that takes the best of both worlds and merges them into one idea, movement, and concept. For example, in the culinary world, we enjoy new and innovative flavors based on the latest cooking technologies, while demanding local and organic ingredients that are handpicked and freshly delivered. Is it possible for cities to advance and grow in a similar way ? one that marries the benefits of the urban density with the benefits of an idyllic, rural lifestyle that promotes an elemental connection with the land?
New innovations in building technologies and agriculture offer new opportunities for super-tall structures and building-to-table local food production. By re-thinking archaic zoning regulations, vast amounts of real estate will be available in the sky. Our idea is RADIAL NEIGHBORHOOD ZONING ? each neighborhood claims and pools all its available AIR RIGHTS- and builds at its center a singular, self-sufficient, self-programmed vertical community for all its services. A new class of super-tall skyscrapers will be large enough to feed the social, cultural and educational needs of entire neighborhoods, freeing up space for people to grow food and re-establish their connection with the land, while growing the level of density in New York City. Radial zoning offers an abundance of light and air for the city and its people (see plan diagrams). The towers will integrate the latest agricultural technologies including hydroponic gardening and rainwater collection. The fabric of neighborhoods will not be replaced, but instead will transform into an urban garden where new types of communities and ecosystems can develop through an agricultural urbanism that relies on growing up instead of out.
Info:
Title:
RADIAL NEIGHBORHOOD ZONING
Time:
13 giugno 2012
Category:
NY
Views:
2391
Likes:
0
Tags:
-