Info:
Title:
LOOKING BACKWARD -
Code:
V3F6M5
Contest:
NY / 2012
By:
M. Latini - S.Palmieri - F. Galiotto - E. Marchiori - C. Colagiacomo - D. Ciaramella
Views:
1843
Likes:
4
Votes:
JOSHUA PRINCE-RAMUS
5
EVA FRANCH I GILABERT
4
ROLAND SNOOKS
4
SHOHEI SHIGEMATSU
0
ALESSANDRO ORSINI
1
MITCHELL JOACHIM
4
3.0
LOOKING BACKWARD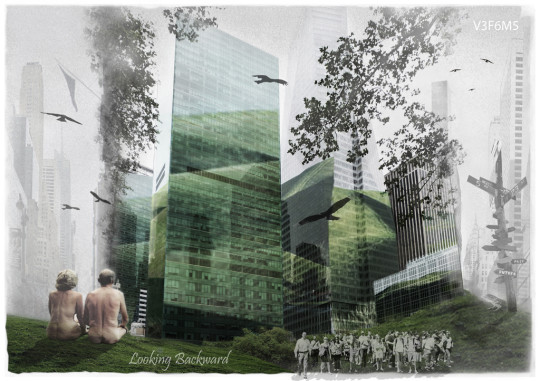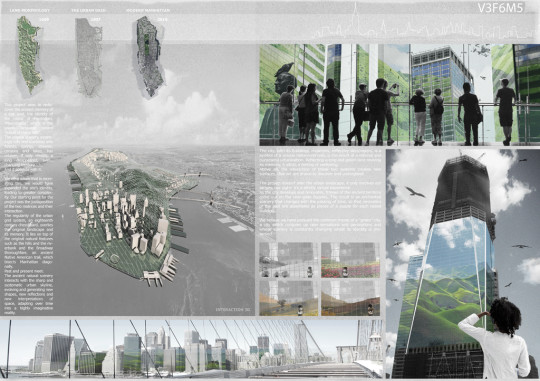 This project aims to rediscover the ancient memory of a lost land, the identity of theislandofManhattan, "Mannahatta", which in the unami language means "island of many hills". The original scenery, surprisingly hilly and scattered with forests, springs, streams, canyons and lakes, has retaken, if only visually, a long disappeared, ever-changing territory. And it coexists with it. We were aware that in recreating this, we would have expanded the site's identity, leading to greater complexity. Our starting point for the project was the juxtaposition of the two matrices and their interaction. The regularity of the urban grid system, an eighteenth century chessboard, overlies the original landscape and its memory. It lies on top of the original natural features such as the hills and the riverbank and the Broadway thoroughfare, an ancient Native American trail, which bisectsManhattandiagonally.
Past and present meet.
The ancient natural scenery interacts with the sharp and systematic urban skyline, evolving and generating new shapes, new reflections and new interpretations of space, adapting over time into a highly imaginative reality.
The city, with its buildings, museums, reflective skyscrapers, is a symbol of a unique metamorphosis, is the result of a rational and purposeful urbanisation. Reflecting a long lost green land reviving its memory, it elicits a feeling of wellbeing.
Above all, the interaction of these two systems creates new surfaces, that we are drawn to discover and understand.
The project doesn't alter the urban landscape, it only involves our senses, our sight: it's a strictly virtual experience.
As the city develops and renovates, frames of the ancient territory come out on the new glass façades. The result is an enchanted scenery that changes with the passing of time, so that reminders of the past are assembled as pieces of a puzzle for each raised building.
We believe we have pursued the common theme of a "green" city, a city which conjures up new sensations and perceptions and whose scenery is constantly changing whilst its identity is preserved.
Info:
Title:
LOOKING BACKWARD
Time:
13 giugno 2012
Category:
NY
Views:
1843
Likes:
4
Tags:
-