Info:
Title:
Pfff PAVILION -
Code:
X8U5D2
Contest:
PFFF / 2012
By:
G. Superbi, S. Viscuso
Views:
2565
Likes:
7
Votes:
ITALO ROTA
0
BENJAMIN BALL
1
MARCO CANEVACCI
9
VANESSA TODARO
6
ANDREA BARTOLI
1
3.6
Pfff PAVILION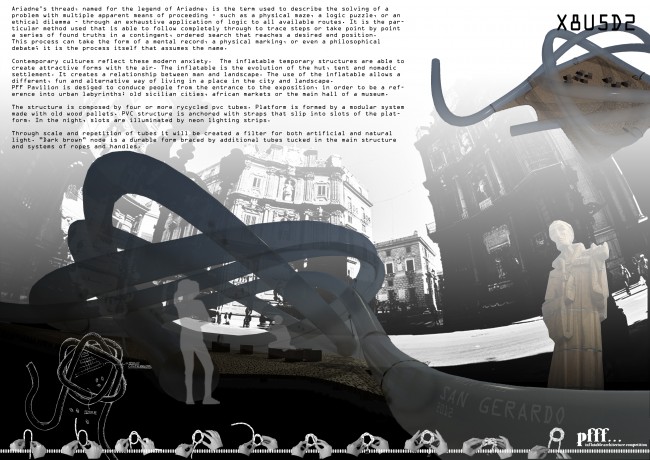 Ariadne's thread, named for the legend of Ariadne, is the term used to describe the solving of a problem with multiple apparent means of proceeding – such as a physical maze, a logic puzzle, or an ethical dilemma – through an exhaustive application of logic to all available routes. It is the particular method used that is able to follow completely through to trace steps or take point by point a series of found truths in a contingent, ordered search that reaches a desired end position.
This process can take the form of a mental record, a physical marking, or even a philosophical debate; it is the process itself that assumes the name.
Contemporary cultures reflect these modern anxiety. The inflatable temporary structures are able to create attractive forms with the air. The inflatable is the evolution of the hut, tent and nomadic settlement. It creates a relationship between man and landscape. The use of the inflatable allows a different, fun and alternative way of living in a place in the city and landscape.
PFF Pavilion is desiged to conduce people from the entrance to the exposition, in order to be a reference into urban labyrinths: old sicilian cities, african markets or the main hall of a museum.
The structure is composed by four or more rycycled pvc tubes. Platform is formed by a modular system made with old wood pallets. PVC structure is anchored with straps that slip into slots of the platform. In the night, slots are illuminated by neon lighting strips.
Through scale and repetition of tubes it will be created a filter for both artificial and natural light. "Dark brown" node is a durable form braced by additional tubes tucked in the main structure and systems of ropes and handles.
Info:
Title:
Pfff PAVILION
Time:
25 gennaio 2012
Category:
PFFF
Views:
2565
Likes:
7
Tags:
-