Info:
Title:
Pfff PAVILION -
Code:
X8U7T5
Contest:
PFFF / 2012
By:
M. Hughes, M. Cross, B. Fairhurst, L. Scott Cullen
Views:
3697
Likes:
0
Votes:
ITALO ROTA
0
BENJAMIN BALL
1
MARCO CANEVACCI
3
VANESSA TODARO
4
ANDREA BARTOLI
1
2.8
Pfff PAVILION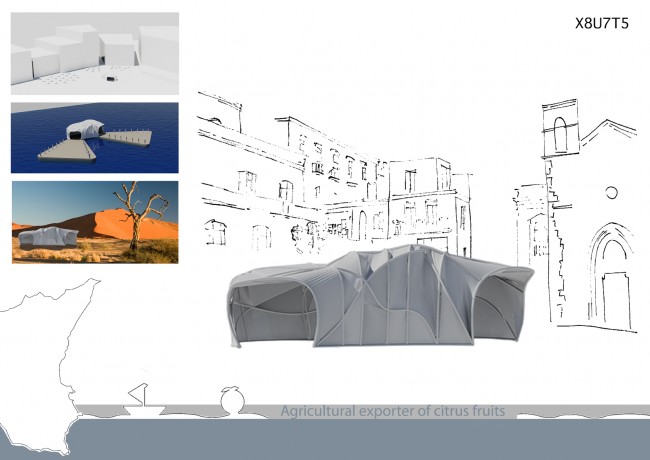 A STRUCTURE TO BE PLACED EVERYWHERE!
As a group we decided to research four key areas to initiate our development: biomimicry, modularisation, technology transfer and adaptable facades. The use of modularisation and technology transfer was something that we wanted to include from the start to show the significance of existing structures and how they can be adapted in order to achieve an innovative solution. The group decided that the use of a semi monocoque structure would be ideal, as the structure has to be inflatable. Using a pre-stressed skin will allow the structure to keep its form when the ribs and veins have been fully inflated. Initial research in to Sicily, informed us as a group of the large agricultural export of citrus fruits from the island. As with all citrus fruits, the germination process intrigued us and we felt that the relevance of the plant growing from a seed simulated the development process we were going through. Further research in to biomimicry developed the initial idea, leading the design concepts towards the characteristic of an orange or lemon. After considering the fundamentals for many of the existing inflatable designs, using hexagonal panels or tubes, we decided to design an entwining structure through the use of ribs and veins to represent more than just a structure. The veins are designed to signify both the various distribution paths of citrus fruits from Sicily and the actual veins within an orange. The shape of the overall shell has been designed as a seed when in plan view.
The bases have been created as additional features that are not necessary for the structure to stand in certain environments but will add to the stability. As shown on sheet one, polystyrene bases will have the ability to be placed on water above either a pontoon or a boat, or even in desert environments. Bases filled with water can be used for all other land scenarios. The bases will be attached using a zip before the structure has been inflated. As shown on sheet one, the bases can be sealed to reduce the ventilation in colder environments. On the other hand, the base can be raised to allow for cross ventilation in warmer climates.
Overall Dimensions:
Large Entrance – 2.5metres high by 3metres opening
Small Entrance – 2.1metres high by 2metres opening
Largest Point of structure – 3metres high by 5metres wide
Veins – Diameter 75mm
Ribs – Diameter 75mm
Base – Diameter 150mm
Info:
Title:
Pfff PAVILION
Time:
25 gennaio 2012
Category:
PFFF
Views:
3697
Likes:
0
Tags:
-