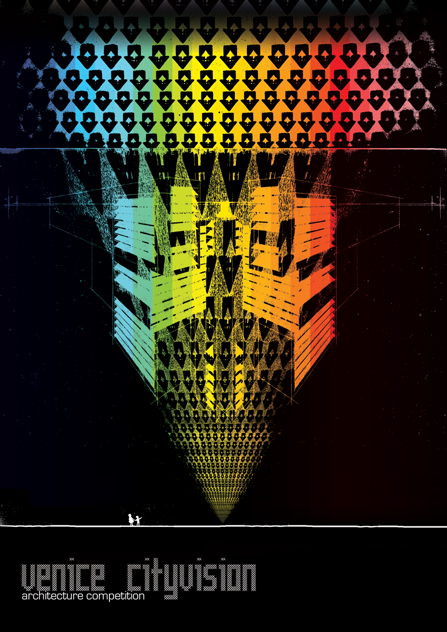 Venice -
Results
Venice CityVision Competition focused on the revealing of the urban context as a newly launched syntax of diverse terms. If one imagines the existing area as the creational canvas then on a mixture of Baroque and Renaissance fragments, one is invited to propose an original dialogue, an advanced element, as if inserting a new exhibit in an ever-existing museum. Aiming to highlight the intense water border, that divides the vertical body of the city in two parts – above and underneath it -  the proposals given should reinterpret the symbiosis, the antithesis or even the collaboration of the three parts: the lower and upper urban segments, as well as the in-between limit. If the particular case of the city of Venice would be translated verbally as a live microcosm in constant – yet discreet – change, then as focal point of the competition stands the element of a delicate motion. This specific urban example is appointed, one one hand, to represent a moving city – concerning the as-said phenomenon of sinking – but also a city in which the transportations are being executed in a special way. Architects, engineers and all kind of creational artists are invited to participate in a competition that attempts to answer the following questions: How can a subtle city movement be expressed through a design proposal? And how one may develop his work according to a vertical or horizontal axe?
JURY PANEL
BJARKE INGELS 
(BIG Architects)  Copenhagen / New York Jury President, 
NERI OXMAN 
(Material Ecology)  New York, 
ELENA MANFERDINI
 (Atelier Manferdini)  Los Angeles, 
MARIA LUDOVICA TRAMONTIN 
(Università di Cagliari)  Cagliari, 
BOSTJAN VUGA
(Sadar Vuga)  Ljubljana.
About
Venice is stolen from the lagoon. A constant struggle of men stealing fragments of ground ...
To talk about Venice is to talk about everything – and in particular of the ...
FARM

prize

We need to meditate and ask… John Ruskin's "The Lamp of Memory" in his book ...