A BEWITCHING WOMAN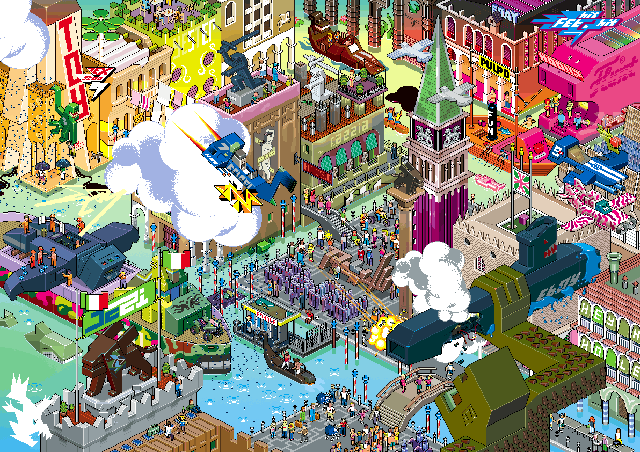 Is it possible that the world is not large and varied enough to satisfy certain people's curiosities and thirst for new and different species, categories, colors and nations? And why do strange Venetian figures roam the world, speaking in Neapolitan, when they are clearly American citizens?
This unrestrained desire to have small pieces of the world and in particular of cities is a real phenomenon. Venice is one of the most desired and studied attractions. It presents itself in the form of hotels, playgrounds, models and paintings.
These reproductions grew in number throughout the years, not so much because of the economic restrictions prohibiting someone to visit them physically, but because of the desire to flaunt "we too have a Venice, and we also have the Grand Canal, come and visit us." This is the spirit that drove an entire city to join in this fever for reproduction. The capital of Silicon Valley is the most visited and experienced "fake" city. The home of extreme entertainment, of squandered wealth and grand displays of luxury, Las Vegas couldn't not have it's own Venice, in fact it also has a hotel devoted to the worship of an entire lagoon.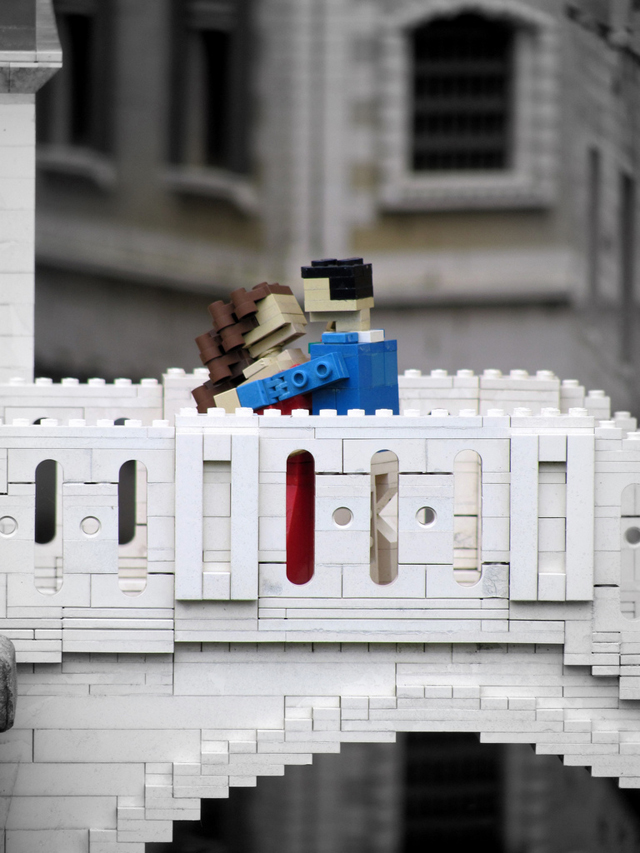 The Venetian offers glimpses of canals conducted by authentic gondoliers, dressed in white and blue with round straw hats, speaking in a forced Venetian-accented English and, if that were not enough, a full scale pedestrian Rialto bridge, but with rivers of cars that run beneath it instead of dirty lagoon water.
In substance there is no life in these fictional Venice (s), and this image of the city as a not lived attraction, except for that fast trip in a gondola, does not help the depopulation of the lagoon, are the tourists who live the real Venice and those who work for them, but are careful not to stay beyond 11 p.m. or live there, actors in the loss of memory and traditions, of bacari and meat balls, of spritz and sandwiches, of cicchetti and sarde en saor.
But this desire to produce creative replicas has a birthdate much further away than 1996 and Las Vegas. It dates back to the twenties in Great Britain, when rich men, probably prompted by the "island factor," acted on their desire to reproduce what was already beautiful and varied in nature. Headed by Sir Rolan Callingham, a group of men in Buckinghamshire took on the roles of planners and landscape architects to create the first miniature village. From here, the 1:25 scale trend spread into the land of poppies (Madurodam,) through Germany, Austria and ended up in our Bel Paese, on the Adriatic coast, where, in 1970, a nice slice of Italy was reproduced, making apparent for the first time the potential attraction of a miniature Venice.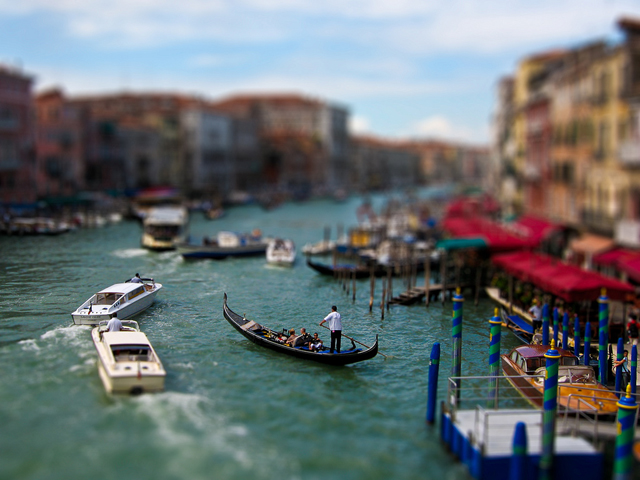 Miniature Italy is the first park to combine the fun of a playground with a cultural experience, reproducing most of the Italian and European monuments for those who, during the years of Italian economic recovery, could afford to drive to Rimini, but could not fly abroad or visit the Italian "monument-cities." Venice is the highest point on the scale of monuments- made-city, a total attraction and favorite place of fantasies and tourist curiosity: from the strange ship, gondolas, to the pile houses/buildings, the pedestrian bridges, daily gym for the inhabitants, to the disorienting alleyways. But the big attraction is the Grand Canal, four kilometers of wetland and open-air museum, which attracts and triggers the bulb to many to copy a scaled gondola tour.
Given the circumstances, could China possibly miss the chance to take a stab at a copy? Well, no; a country known for its skills in creating perfect clones of any object, work or shop window could not miss the opportunity to rebuild a city that imitates not only the original, but also the American copy.
Macau is the Chinese Las Vegas, or as it is called, "the tiger of the East." The tiger might be derived from its aggressiveness in crazy reproduction and lifestyle to which they aspire visiting it. From the rest of China, and especially Hong Kong, billionaires and well-offs come to squander their money between casinos and prostitues, luxury, gambling and pull in for the State.
This race for wealth and fine show of it, has triggered the spark for the race to the tallest skyscrapers, the hotel with more rooms, to the better welcome by the fairer sex and, in all this excitement, could we miss another Venetian, another Rialto bridge, new gondolas and gondoliers.
Those who have lived it close, speak with wonder, terror and focus at the same time: "The second floor reproduced the city's canals, with real water, bridges and starry sky. The sky brightness and colors change as the hours passed. With a disproportionate amount of money you can take a ride in a fake rowing gondola (which is actually driven by a very quite propeller engine) and fake Neapolitan gondoliers (Americans singing Iamme iamme ià funiculì funiculà…with a ridiculous accent)".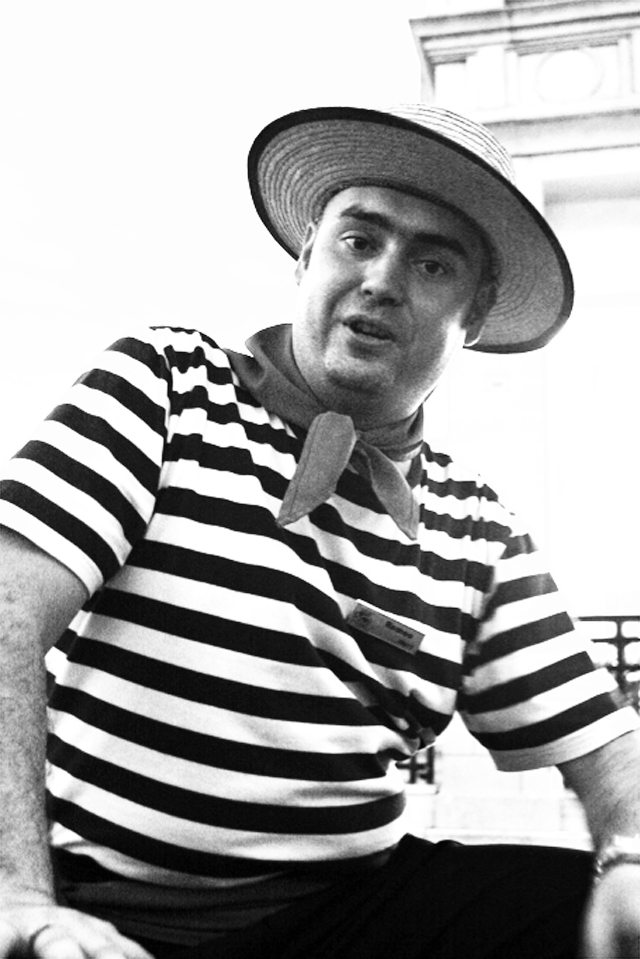 And here is another disturbing question: Why do the Venetian gondoliers sing in a Neapolitan dialect, are they Americans who pretend to speak only Italian? It's the triumph of fakeness.
Letting go this extreme dimension, it's nice to go back to the Eighties, to childhood carelessness, to primary colors, red yellow blue green white and black Danish bricks and their constructed dimension for those who thanks to them became men/women, so "big" to have an unwriteable pleasure to walk through buildings, houses, ports and reconstructed cities, thanks to millions of Lego units. Legoland, this is where Venice is reproduced in the most romantic possible way; it's the spying external eye factor that makes it more attractive and inhabited by local men to make it much more real and beautiful.
The interpretative role of colors triumphs over the obvious copy of forms and materials, as do the artistic visions, that of Impossible Venice transported in a big cruise ship by Ludovico De Luigi, gives perfectly the idea of an object that can be moved and contextualized according to the fake- touristic needs of the wonderlands.
It will never be reproduced and copied enough to transform it into a useless reality, it will always be spied, controlled, mercerized; fortunately it isn't called "Mona Lisa" and "isn't fickle" as Rigoletto wants, but above all she's not a woman like many others, she's the bewitching Lady Venice.
text by Maria Azzurra Rossi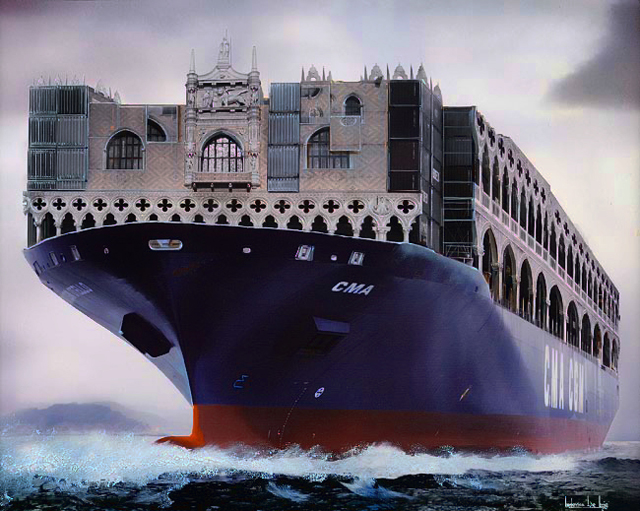 Related Posts :
Time:
2 novembre 2011
Category:
Article
Views:
2412
Likes:
1
Tags:
china , gondoliere , las vegas , miniature
Comments:
Info:
Title:
A BEWITCHING WOMAN
Time:
2 novembre 2011
Category:
Article
Views:
2412
Likes:
1
Tags:
china , gondoliere , las vegas , miniature