CHROMA.TEX ME – SOFTLAB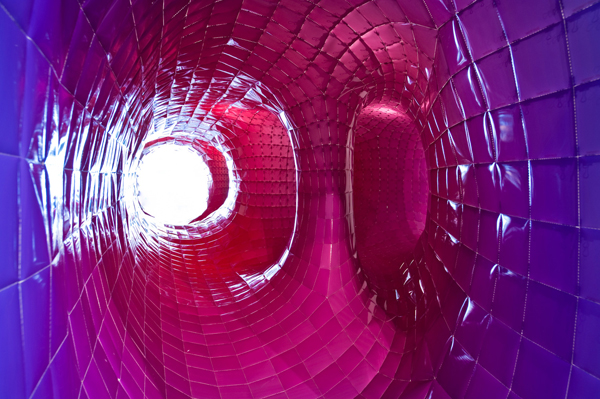 text by Maria Azzurra Rossi
Have you ever been in a tunnel, a real one in which you cannot even perceive the space, let alone the end? I am not talking about the subway, nor an underground passage or gallery, not even of the influence of drugs, but simply of that space which creates curiosity and fear.
Darkness and light are the two opposites at either end of this concept. One arouses the imagination while the other acts as a guide. Perhaps remnant childish fears gave birth to this idea of a tunnel that can change one's perception of the neighborhood's space while still confined within the four walls of a gallery, the Bridgegallery. CHROMAtex.me has an entry which points at people walking carelessly on the Lower East Side of Manhattan. It is attractive, thin is its philosophy, and its aesthetics are shocking, blinding visitors with the six colors of the optical spectrum.
Be careful, if you feel the impulse to break the glass or tear the magazine page, please contact Softlab. CHROMAtex.me generates side effects. What is it made of? One-third emptiness and two-thirds inverted space. It is three-dimensional, suspended and is not livable in its entirety, but in its singularity. The 4,000 sheets of photo paper of which it's composed are all different in shape and color, cut and designed with the help of a laser cutter. The result is purely artificial, but the visual reference is natural, biological, scientific.
It's a fragment of the circulatory and nervous systems taken out of context and fed by the space that has been dedicated to it. The installation adapts to the gallery space in the same way that the silhouette of the human being is shaped by the form of its cells. Grasshopper allowed SOFTlab to shape the form and extract the pieces, though the two-dimensional fluidity of the surface as a whole was lost in favor of customization of the individual pieces that can be purchased and signed (and which are now present in many buyers' houses around the world.) It is not a purely artistic act; it is a direct dialogue between art, experimentation and curiosity.
Related Posts :
Time:
14 marzo 2011
Category:
Article
Views:
3085
Likes:
0
Tags:
bridge gallery , brooklin , chroma , installation , me , softlab , tex
Comments:
Info:
Title:
CHROMA.TEX ME – SOFTLAB
Time:
14 marzo 2011
Category:
Article
Views:
3085
Likes:
0
Tags:
bridge gallery , brooklin , chroma , installation , me , softlab , tex