COATED VOLUMES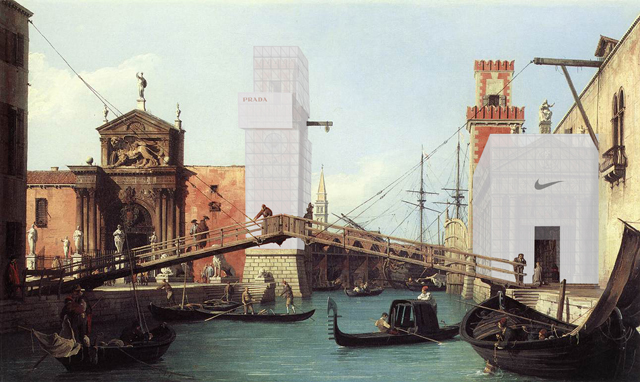 O. DI MANNO – L. CATENA – F. CUSANI – F. GRAVIGLIA
Throughout the centuries Venice almost maintained it's charm intact. Churches, old buildings and the lagoon painted by artists on their canvasses. But today the city we see seems frozen, like an image from an ancient postcard. It misses modern infrastructures and services, due to it's quick musealization.
The project, second Venice city vision 2011 prize, proposes an innocent provocation, transforming some sacred and celebrated examples in contemporary works. The result: a new way to live and observe the object, reinvented as an object of common usage, protagonist of a new role and new aesthetic.
Disregarding their original function, these sites will be dedicated to active work, deprived of that patina of de´cor that characterized their facades. The purpose is to break the bond of the building with its nature and history in the past.
Everybody can be protagonists of this action, a regular contest will assign each building it's new function in four concentric zones. The touristic part of Venice will become an active and productive centre , dodging the stifling embrace of history and the past.
Related Posts :
Time:
2 novembre 2011
Category:
Article
Views:
2740
Likes:
0
Tags:
-
Comments:
Info:
Title:
COATED VOLUMES
Time:
2 novembre 2011
Category:
Article
Views:
2740
Likes:
0
Tags:
-