Info:
Title:
EULOGIE
Time:
1 giugno 2012
Category:
Article
Views:
1304
Likes:
0
Tags:
architettura , Buckminster Fuller , casa azuma , giappone , italia , Japan , Marco Ruperto , Montegabbione , santuario naiku , scarzuola di montegabbione , Tadao Ando , Tomaso Buzzi
EULOGIE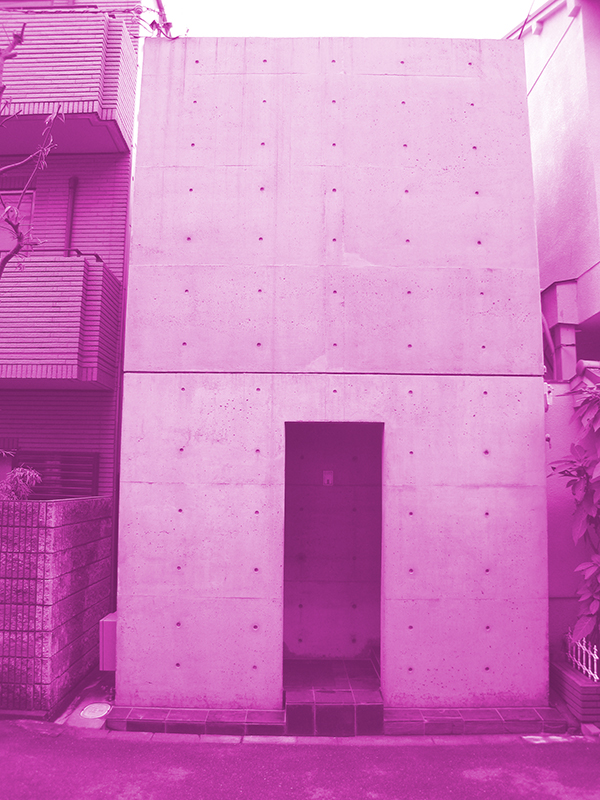 an article by Marco Ruperto
In Japan, for the last 5 centuries, every 20 years, the architects devoted to shintoism have demolished and rebuilt the Naiku sanctuary at Ise, repositioning the building alternatively on two contiguous areas. It is the pursuit of a form related to a liturgical action, both ephemeral and immaterial, that leads this perpetual motion, an action that, to the untrained eyes of a western beholder may seem self punishing. As it was for our Tomaso Buzzi, and for his eternally unfinished work, the Scarzuola in Montegabbione, contentment coexists with the frustration of not being able to see the final work completed. Perhaps the owners of the Azuma House, designed by Tadao Ando, were searching for a distant pleasure too when they decided to undergo a rather peculiar ordeal: to eliminate all the corridors of their house and to have to walk through a garden opened to the sky in order to walk from a room to another, in the warmth of spring as well as during winters. Innovators are devoted by definition to many paradoxes, and therefore to a subtle form of masochism. Buckminster Fuller who, while denigrating the profession of architecture, became one of its most ardent innovators, succesfully patented several inventions only on paper, without completing the projects, and suddenly moved to the next idea. In Rome, every day, thousands of young architects keep working, putting their efforts in the hands of construction abuse, bureaucratic subterfuges and exceptions to the correct zoning regulations while, sitting at the same desks, they participate to international competitions and dream of better cities. It is the paradox of a generation, and somehow its leit motif. It represents a complex form of masochism, harder to decipher than those previously quoted in this short article. But what is lacking in this case, and it is really difficult to come to terms with that, is pleasure, dramatically lost somewhere among the project sketches, and the too many accepted compromises.
In Giappone, da circa cinquecento anni, ogni quattro lustri gli architetti devoti al culto shintoista demoliscono e ricostruiscono il santuario Naiku, ad Ise, alternandone la collocazione su due aree contigue. A dettare questo moto perpetuo, dal sapore autolesionista per gli occhi ineducati di qualsiasi occidentale, è la ricerca di una forma del mondo legata ad un'azione liturgica, caduca e immateriale. Come fu per il nostro Tomaso Buzzi e la sua opera perennemente incompiuta, la Scarzuola di Montegabbione, l'appagamento convive con la frustrazione di non poter vedere l'opera finale terminata. Forse anche i proprietari di Casa Azuma, progettata da Tadao Ando, inseguivano un piacere lontano, quando hanno deciso di sottoporsi ad un supplizio piuttosto singolare: eliminare i corridoi dalla propria abitazione e trovarsi a dover attraversare le intemperie di un giardino aperto al cielo per passare da una stanza all'altra della casa, nel tepore della primavera così come in pieno inverno. Gli innovatori sono votati per definizione a molteplici paradossi, e dunque ad una sottile forma di masochismo. Buckminster Fuller, che denigrando la professione dell'architettura ne fu uno dei più fervidi innovatori, brevettò con successo molte delle sue invenzioni spesso solo su carta, senza portarne a termine il progetto e passando subito all'idea successiva. A Roma, ogni giorno migliaia di giovani architetti lavorano mettendo la propria scienza al servizio di abusi edilizi, sotterfugi burocratici e deroghe alle normative urbanistiche, mentre si cimentano seduti alle stesse scrivanie in prestigiosi concorsi internazionali, sognando delle città migliori. E' il paradosso di una generazione, e per certi versi il suo leitmotiv. E rappresenta una complessa forma di masochismo, più difficile da decifrare rispetto a quelle che l'hanno preceduta in questo breve articolo. Ma ciò che manca in questo caso, ed è veramente difficile farsene una ragione, è proprio il piacere, drammaticamente smarrito da qualche parte, tra gli schizzi di progetto e i troppi compromessi accettati. 
Info:
Title:
EULOGIE
Time:
1 giugno 2012
Category:
Article
Views:
1304
Likes:
0
Tags:
architettura , Buckminster Fuller , casa azuma , giappone , italia , Japan , Marco Ruperto , Montegabbione , santuario naiku , scarzuola di montegabbione , Tadao Ando , Tomaso Buzzi