Info:
Title:
Giardini in campo at Favara | International Workshop June 9 – 16, 2013
Time:
29 maggio 2013
Category:
news
Views:
2300
Likes:
3
Tags:
-
Giardini in campo at Favara | International Workshop June 9 – 16, 2013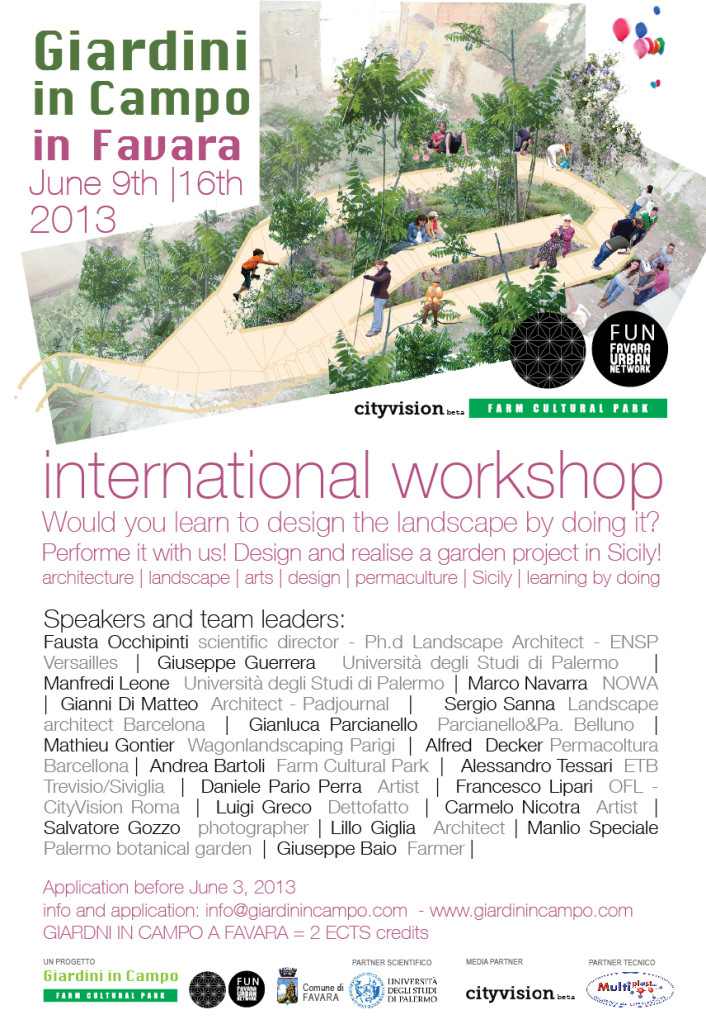 Giardini in campo at Favara
Workshop from the 9th to the 16th of June
Registration before 3th of June
Something great is going on 29th of June, when the fascinating project of Castello Chiaramonte in Sicily, celebrates the new artistic season in Favara, near Agrigento, connecting to the 3rd birthday of  FARM CULTURAL PARK. GIARDINI IN CAMPO scientifically supported by the Faculty of Architecture of Palermo, invites you to participate at the GIAIRDINI IN CAMPO FAVARA Workshop from the 9th  to the 16th  of June, where all together we will project and realize Castello Chiaramonte's garden.
The  workshop represents  a theoretical and practical opportunity to learn to project a garden, with the support of well-known architects, landscape architects, artists, teachers, administrators, farmers and citizens, and a great possibility to work with friends and colleagues from other cultures and nationalities.
A series of lectures will enrich the program of events. At the end of the workshop you will receive a certificate of participation for the recognition of 2 credits.
For more information and registration, please write to info@giardinincampo.com  or visit www.giardinincampo.com. Registration before 3th of June.
The nearest airports are Catania, Palermo and Trapani.
We look forward to this exciting new experience with GIARDINI IN CAMPO!
—————————–
A Favara, a qualche chilometro da Agrigento, sta succedendo qualcosa di straordinario: il 29 giugno 2013 FARM CULTURAL PARK  festeggerà il suo terzo compleanno e il comune di Favara inaugurerà la nuova stagione del Castello Chiaramonte.
GIARDINI IN CAMPO, con il supporto scientifico della Facoltà di Architettura di Palermo organizza, dal 9 al 16 giugno, un WORKSHOP INTERNAZIONALE DI PROGETTAZIONE DEL PAESAGGIO, in cui teoria e pratica andranno di pari passo: progetteremo e realizzeremo insieme il giardino del Castello Chiaramonte a Favara.
Il workshop è una straordinaria occasione per imparare a progettare in pratica, grazie al supporto costante e le indicazioni di noti architetti, paesaggisti, artisti, docenti, ma anche amministratori, agricoltori e cittadini. Il ! workshop è anche un'occasione per lavorare con amici e col! leghi di altre culture e nazionalità.
Un ciclo di conferenze interdisciplinari (architettura, paesaggio, arte contemporanea, fotografia, comunicazione ecc.) arricchirà il programma degli eventi.
Alla fine del workshop riceverete un attestato di partecipazione per il riconoscimento di 2 crediti formativi universitari.
Per maggiori informazioni e iscrizioni scrivete a info@giardinincampo.com o consulta la pagina www.giardinincampo.com. Le iscrizioni scadono il 3 giugno.
Gli aeroporti più vicini per raggiungere Favara sono Catania, Palermo e Trapani.
Ti aspettiamo per questa nuova entusiasmante esperienza con GIARDINI IN CAMPO!
—————————–
A Favara, à quelque kilomètre d'Agrigente en Sicile, il se passe quelque chose d'extraordinaire: le 29 Juin, 2013 le FARM CULTURAL PARK fêtera son troisième anniversaire et la ville de Favara inaugurera la nouvelle saison de Château Chiaramonte.
GIARDINI IN CAMPO, avec le soutien scientifique de la Faculté d'Architecture de Palerme, vous invite à participer sous 9 à Juin 16 au workshop international GIARDINI IN CAMPO A FAVARA où nous allons concevoir et fabriquer ensemble le jardin du Château Chiaramonte.
L'atelier est une occasion unique d'apprenre comment concevoir un jardin, non seulement en théorie mais aussi en pratique avec l'aide d'architectes de renom, de paysagistes, d'artistes, d'enseignants, d'administrateurs, d'agriculteurs et des citoyens, et la possibilité de travailler avec des amis et collègues d'autres cultures et nationalités.
Une série de conférences permettra d'enrichir le programme des manifestations.
A l! a fin de l'atelier, vous recevrez un certificat de participation pour la reconnaissance de 2 crédits.
Pour plus d'informations et inscription, écrivez à learnonsite@gmail.com et consulter www.giardinincampo.com. Inscription avant le 3 Juin.
En espérant vous y voir nombreux pour une nouvelle et passionnante expérience avec GIARDINI I CAMPO!
—————————–
Algo extraordinario está pasando en Favara, en Sicilia: el 29 de junio 2013.  FARM CULTURAL PARK celebrará su tercer cumpleaños y el Ayuntamiento de Favara inaugurará la nueva temporada de LAS ACTIVIDADES del Castillo Chiaramonte.
GIARDINI IN CAMPO, con el apoyo científico de la Facultad de Arquitectura de Palermo, os invita a participar, desde el 9 hasta el 16 de junio, al WORKSHOP GIARDINI IN CAMPO A FAVARA en el que diseñaremos y realizaremos j! untos el jardín del Castillo Chiaramonte.
Es una extraordinaria oportunidad para aprender a diseñar un jardín, teoría y prácticamente, gracias al apoyo de importantes arquitectos, paisajistas, artistas, profesores, administradores, agricultores y ciudadanos, y, además, es una oportunidad para trabajar con amigos y colegas de diferentes culturas y nacionalidades.
Un ciclo de conferencias enriquecerá el programa de eventos.
Al finalizar el laboratorio, recibiréis un certificado de frecuencia para el reconocimiento de 2 créditos formativos.
Para más información e inscribirse, contactad con info@giardinincampo.com o mirad la pagina www.giardinincampo.com. Fecha limite de inscripción 3 de junio.
Los aeropuertos mas cercanos para llegar a favara son Catania y Trapani.
Te esperamos para esta nueva emocionante experiencia con GIARDINI IN CAMPO!
Info:
Title:
Giardini in campo at Favara | International Workshop June 9 – 16, 2013
Time:
29 maggio 2013
Category:
news
Views:
2300
Likes:
3
Tags:
-