IMA IN:spired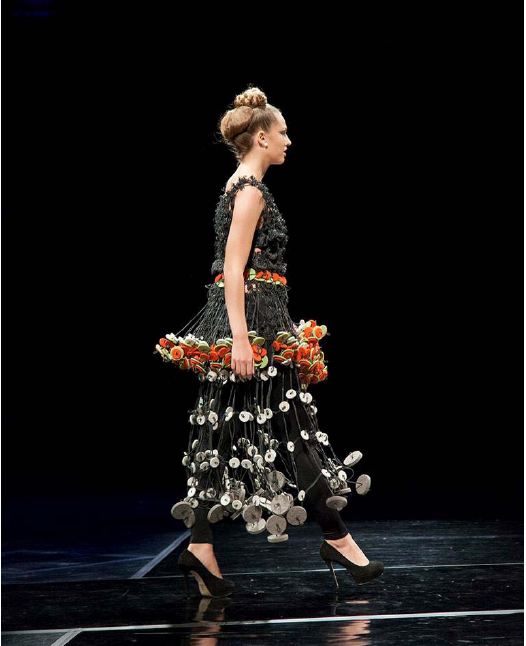 Fashion is architecture: it is matter of proportions.
Coco ChaneL

As long as I remember I always wanted to be an architect. I grew up in a family of artists and I was always surrounded by artists. My father was a painter and my mother is a sculptor. At home, it was like an open house where other artists will come on an everyday basis and passionately discuss art and quite often politics. For me the best painter was my dad and the best sculptor was my mom. So I guess the other "real" artistic professions, in which I will not compete with them, was to become an Architect. I was good in math and loved problem solving, got fascinated by shapes and colors, so becoming an Architect was a very natural path for me to choose.  In a lot of ways architecture is very close connected to the other creative disciplines, especially applied arts, where a lot more process is involved as well as understanding of structure, utilitarian values and budget. Here also comes in and my deep interest towards fashion as an art form with its volumes, colors and proportions.
For Project IMA IN:spired, I' v e presented Bell, ensemble that I designed and made entirely from different sizes black rubber bands and industrial felt scraps.
It was great experience being involved with the Indianapolis Museum of Art and I am thrilled that I
had the opportunity to contribute again. Even more, I am extremely honored that my new design
received the top award of Project IMA: IN:spired.
For my current entry I found inspiration in the evening dress by Norman Norell, pictured below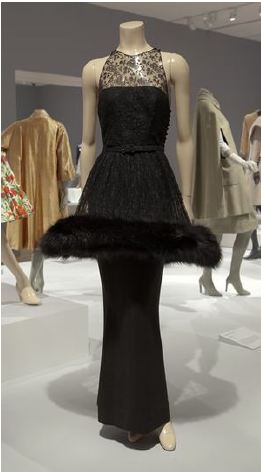 I wanted to grasp the spirit of Norman Norell"s work and to give it a new, contemporary interpretation Bell is continuation of the design ideas developed in my conceptual project "Recycling of the Architectural Office". The ever-changing character of the contemporary architectural office, where standard tools become obsolete, in lieu of digital technology, inspired particular collection of  accessories, where I began reusing paperclips, punched business cards, eyelids, rubber bands, mosaic stones, presentation wire binding elements, felt scraps, etc. I was experimenting with new materials in order to defy and reinvent tradition. Later on I continued working mainly with rubber bands. I have works presented in galleries and museum shops in USA and Europe. Small collection of rubber band pins and necklaces was also featured at the MCA Store.

I've been also thinking about our current economic and social conditions. One of the positive aspects of the recession in the economy, if any, is the opening of our senses towards alternative materials, recycling and upcycling. I believe that we have to be environmentally responsible and conscious about our surroundings. Bell is my creative response towards finding new sources and expressions. I would like to think that I am successful in the making of our surroundings more "visible" for people. Intrigued and inspired by the Chantilly lace that Norman Norell used, I created my own version of the delicate net by using only black rubber bands. In creating Bell I didn't use any tools, but my fingers. Thousands of rubber bands are knotted, interlocked, twisted together and assembled in order to create the unique texture of the garment. Looking for a fusion of past and present I've chosen to pay respect in this way and to give modern interpretation of the Chantilly lace and artistic techniques associated with creating the fabric, all done by hand only.

Norell used fox fur to trim the lampshade-shaped top of the evening dress. Half a century later, and living in different environment, I decided to interpret his design by using colorful industrial felt scrap circles. The felt that I used is 100% wool – biodegradable and renewable material. I used color on purpose to bring cheer in the ensemble. The white, red and green color circles of the trim are attached by rubber bands to the rest of the top. When the model moves they dance with each and every step. The colorful elements at the edge remind small bells that "sing" with color and enhanced the meaning of the name and shape of the dress.

In my work I am inspired both by the artistic and cultural heritage of the couture, and also I am highly intrigued by innovative fashion designers who changed the shape and the mood of fashion; by Norman Norell, in particular and his geometrical forms and shapes and attention to detail. I wish my designs to be truly generous and poetic, to merge textile, geography, art and architectural references.
Related Posts :
Time:
30 novembre 2012
Category:
Article
Views:
3363
Likes:
0
Tags:
-
Comments:
Info:
Title:
IMA IN:spired
Time:
30 novembre 2012
Category:
Article
Views:
3363
Likes:
0
Tags:
-